Carriage Trips
Romantic horse-drawn vehicles can be seen in the historical centre of Prague all year round. For about 10 EUR, you can ride around the most beautiful streets of the old city. You will find the carriages waiting for you in the Old Town Square, just by the Old Town City Hall and the Astronomical Clock.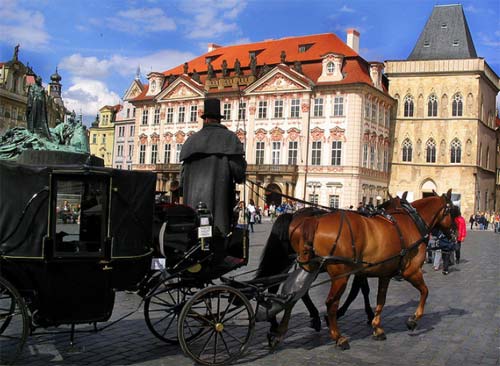 Vintage Car Tours
Do you want to feel as if it's the 1920s? In Prague, nothing is easier. For about 30 EUR, you can hire the antique car that best suits your taste and have a trip around the city's historic centre. The inter-war dream might be blown away by the seemingly never-ending queues at the traffic lights, but if you can get yourself to ignore the mass of tourists around, you might have a great time. This exquisite car rental can be found close to Old Town Square, on the Royal Route to Prague Castle. Most tours depart as available or whenever you ask. Trips last from 30 minutes up to one hour.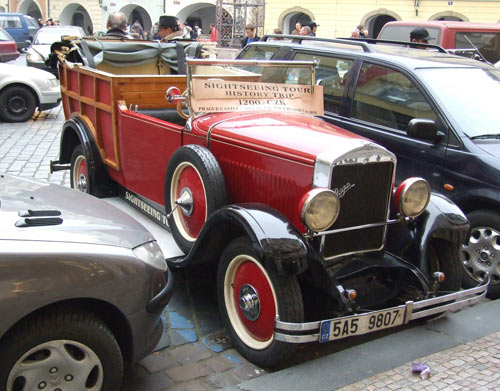 ECOEXPRES tel. 602 317 786, tel. 222 517 741; www.ekoexpres.cz – Ecotrain, departure: The Old Town Square (April – October).
PONY TRAVEL tel. 736 752 671, tel. 224 931 112; www.ponytravelsro.cz – Sightseeing by horse-drawn carriages, departure: The Old Town Square (April – December).
HISTORY TRIP tel. 776 829 897, tel. 776 782 094; www.historytrip.cz – Sightseeing in historical vehicles, departure: Malé náměstí (April – October).