Skiing in the Czech Republic has many pros, such as the prices, which are still lower than in most parts of the EU, but on the other hand, the Czech peaks do not reach such altitudes as in the Alps. One of the other negative points about Czech skiing is the amount of time one must spend in line. While this can still occur, most resorts are rapidly improving this situation. Nevertheless, the Czech mountains are a perfect destination for your family holiday, offering a vast range of activities from skiing to tobogganing and skating.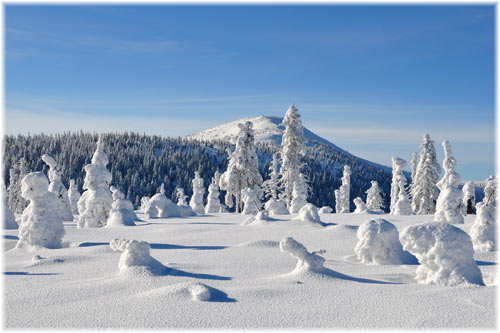 There are over 200 ski resorts and centres in the Czech Republic providing ski and snowboard possibilities. Moreover, Czech ski centres are undergoing constant modernisation: before this winter season alone, annual owners' investments amounted to about a billion crowns. Resorts are usually of a high standard, with over 25 resorts being four or five stars.
The largest ski resort in the Czech Republic is Skiareál Špindlerův Mlýn (www.skiareal.cz), which is situated in the Giant Mountains, about two hours' drive from Prague. This region of Špindlerův Mlýn and Horní Mísečky offers five ski lifts, 11 drag lifts, 25 kilometres of downhill slopes, 90 kilometres of cross-country trails, and 11 ski tows. Špindlerův Mlýn is quite a tourist destination and can be extremely crowded during the peak season – expect some long lines at the ski lift. There are plenty of shops, restaurants, and other sights to see
Ski Areal offers one pre-paid ski pass with which you can hit the slopes of Svatý Petr, Horní Mísečky, Labská, Hromovka and Medvědín. Prices for accommodation and ski passes are a bit higher than other areas because of its popularity. True downhill fans will want to choose Svatý Petr for their slopes' degree of incline. Svatý Petr and Horní Mísečky are also popular with snowboarders. The snow park here has jumps, crossover lanes and space for acrobatic skiing. If you are a beginner at the sport and want to go to the Krkonoše's, you might want to come here rather than Svatý Petr.
Skiarena Krkonoše is a group effort of the resorts of Pec pod Sněžkou (www.skipec.com), Černá hora–Janské Lázně, and the Velká and Malá Úpa. Here you'll find 31 ski lifts and 28 kilometres of downhill slopes. The Černá Hora ski resort (www.skiresort.cz) in Janské Lázně has some of the longest downhill slopes in the Czech Republic.
Ski centre operators have been paying more attention to skiing for children, and parks for children's courses equipped with "magic carpet" lifts, children's ski carousels and teaching aids have become part and parcel of skiing in the Czech mountains, as well as family ski passes at a reduced price.
After your skiing day is over, your body will deserve a well-earned rest in one of the nearby spas. You can arrive at a number of them directly from the ski slope. A typical example is the Mariánské Lázně (www.marianskelazne.cz) offering several cross-country ski routes and a ski resort. Another is in Janské Lázně, the only spa in the Czech part of the Giant Mountains (www.janske-lazne.cz), or in Lázně Jáchymov (www.laznejachymov.cz) in the Krušné Mountains. Indulge in relaxation, wellness activities and many other services in "Centrum Babylon" (www.centrumbabylon.cz) in Liberec!
If you are looking for something different, Špindlerův Mlýn has a four-kilometre sledge run (www.sankarska-draha.cz) and a very nice bobsleigh track (www.bobovka.cz.) Černá hora and Janské Lázně are connected by the more than three-kilometre sleigh track, Zvonková cesta (www.janskelazne.cz). For information on snow tubing, a snow trampoline, snow scooter and snow rafting, visit www.activeguide.cz.
Additional information about Czech ski resorts and centres can be found on the following websites: www.holidayinfo.cz and www.ceskelazenstvi.cz. For low cost and reliable transport from and to the Prague airport, we recommend the ski transfer specialist, Prague Airport Transfers.