The Battle of Austerlitz (Bitva u Slavkova), also known as the Battle of the Three Emperors, was one of Napoleon Bonaparte's greatest victories, effectively destroying the Third Coalition against the French Empire. On December 2, 1805, a French army of 68,000 troops commanded by Emperor Napoleon I, decisively defeated a Russo-Austrian army commanded by Tsar Alexander I, after nearly nine hours of difficult fighting. The subsequent peace agreement was signed in Slavkov Chateau. The battle took place near Austerlitz (Slavkov u Brna) about 10 km south-east of Brno in Moravia. This battle is often regarded as a tactical masterpiece.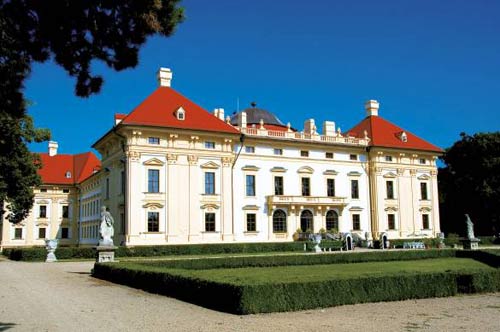 The chateau was founded by the Kounic family in the 16th century. It was built on the site of a medieval stronghold and was turned into a grand stately Baroque residence during the 17th and 18th centuries. It was redesigned by Italian architect Domenico Martinelli based on Enrico Zuccali's plans.
Today you can visit the chateau's interior, an exhibition devoted to the Battle of Austerlitz and a gallery of classical statues. The site is surrounded by an English park with fountains and ornamental sculptures.
Austerlitz and Slavkov Chateau are great for a half-day trip if you stay in the Brno area, but if you plan to make a day trip from Prague, you would need a whole day.
Address: Palackého nám. 1, 68411 Slavkov u Brna; www.zamek-slavkov.cz. More info about the battle can be found at www.austerlitz.org.