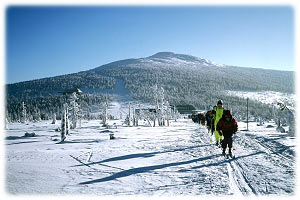 Špindlerův Mlýn, at the heart of the Giant Mountains, has the most persons interested in sports activities, especially on weekends in winter.
Those who choose some of the bus lines which run regularly to the ski centre will resolve the basic question – where to park there. Another option is using the private carrier Prague Airport Transfers s.r.o., who will transport you comfortably from the airport or your hotel in Prague right to the place of your stay.
If you arrive by your own car, the ski centre has several unpaid parking places. But the first one, P1, is marked so poorly that almost everybody will overlook it.
But then a visitor comes to a large illuminated board informing that all free car parks are occupied. At the same time, right at the first car park is the entrance to the local ski slopes. Medvědín is also usually occupied, and private cars are not allowed to enter Svatý Petr. So parking is the greatest problem.
The Start Is in Hromovka
Most skiers intend to start skiing at P1 in Hromovka; the access way to the ski complex leads through that place. Going this way means getting ready for a little discomfort – there are too few seats without protective Plexiglas bubbles, so T-bar lifts prevail.
Of course, the ski slope manager wants to modernise everything, but this will not happen before the moment when either Svatý Petr, Mísečky and Pláně are interconnected with Medvědín in accordance with the land use plan, or if at least the old seats are replaced with new means for the transport of six persons in a modern way.
The complex, the largest part of which is owned by ČSTV, is visited by Poles, Hungarians and Russians and Czechs. According to local people, older Germans have also returned after about ten years. These are especially lovers of tracks for cross-country skiing. Snowboarders and lovers of carving prefer the short but steep slopes of Svatý Petr, and more comfortable riding is also offered by slopes marked in red in Medvědín.
You ski among forest covers there; that is why ski slopes are often quite narrow there, and the one having the number twelve is even crossed by a track for cross-country skiing. In case of heavy snowfall, this is quite unpleasant; fortunately, downhill skiers have to slow down just at that moment because they are running to the opposite slope.
Medvědín also prides itself on the nicely designed chalet at the target station at the height of 1235 metres, where sportspeople numbed with cold can get warm at the heater and go to the bar or non-smoker dining room. A steak with mashed potatoes costs CZK 155, and mineral water costs 30 Czech crowns.
Where to Eat
Where and what to eat have to be solved by both skiers and non-skiers in Špindlerův Mlýn. If the latter give up their effort to orientate according to signposts – the town is only now building uniform marking, so most tables are missing, and they say that some of them have also been destroyed by rough tourists – they mostly set out to the most visible points.
A favourite Caffe Bogner pavilion stands at the small bridge across the Elbe, which joined Špindlerův Mlýn with Bedřichov for the first time as early as before 1845. They refused to make a half pizza for us there; strudel with whipped cream for 49 Czech crowns was soft; excellent Latte Macchiato cost CZK 59; only mineral water had apparently a high mountain extra charge compared with Medvědí, which is situated higher – we paid CZK 39.
And when we are on the Bedřichov side, we will head for Medvědín on foot, taking the way which also leads to the springs of the Elbe. Another landmark becomes to us the Savoy Royal Hotel which was named Zur Krone in 1881 and is completely rebuilt today.
"In summer, hundreds of tourists stream past us when going for a walk, but they are probably afraid of going to us. Maybe our hotel seems too luxurious to them. We, therefore, want to open ourselves to them much more, literally. We will get rid of some glass doors, so the tables inside will be better accessible. And we will also begin to operate a jazz club," says Tibor Michálek, the author of the concept of the hotel, where a film star is looking from photographs in each room.
They Also Try Sorrel
The greatest attraction to a usual visitor to Špindler Mlýn is the chief cook of Savoy. The thirty-five-year-old Patrik Feltl has been gaining experience in Austria and Switzerland, as well as in our metropolis, and has understood that good cuisine is made mainly from regional raw materials. He is not afraid of putting domestic pear compote on the degustation menu, and he uses a beef tail in a bouillon.
"Any fool could cook well using expensive raw materials, but I am attracted by those which used to be usual sometimes and which are not used too frequently today. For instance, I want to try sorrel in summer. We will also make ice-creams taste special," says the man who prepares a three-course menu at prices of up to 200 Czech crowns for his diners at noon during the winter season. Eating well at reasonable prices is also possible at the Jelínek hotel, while local people also recommend the Bakchus restaurant.