St Barbora's cathedral in Kutná Hora is probably the most moving and impressive religious structure in Europe's centre. Determined to outdo Sedlec's great monastery and Prague's Cathedral of St Vitus, the Kutná Нora miners started funding the building of a grand Gothic structure themselves as a tribute to Saint Barbara, the gunners and miner's patron saint. Its' foundations, in all likelihood, were laid down in the 1380s by Peter Parler, but the Hussite conflicts disrupted the building work. The cathedral is still not finished, even though it was worked on during the intervening years by several architectural designers, such as Matouš Rejsek, Benedikt Ried and Master Hanuš.
The 'Barborská' road approaching this cathedral is bordered with a procession of gesturing Baroque cherubs and saints, which surpass the Charles Bridge sculptures, and the former palatial 17th century Jesuit College is on the right-hand side. This cathedral glistens with finials, flying buttresses and pinnacles that support its' most stunning feature, a ceiling of 3 tent-shaped towers put on in the 16th century, resulting in its' unsymmetrical and very pointed spires.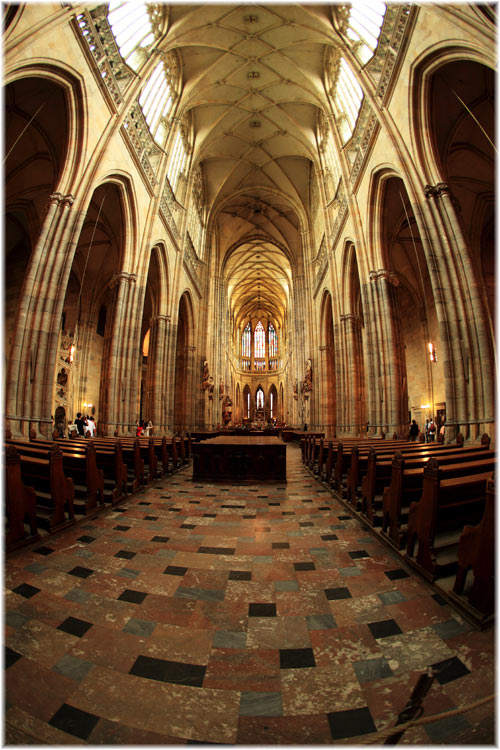 On the interior, cold lighting passes through the multiple plain-glassed windows, brightening the lofty nave up. Also illuminated is Ried's interesting ribbed vaulting, which forms petals and branches branded with coats of arms owned by the local "inners" guild and Wenceslas the second. The broad placement of the 5-aisled nave is amazingly tidy: die multi-levelled tester of its Gothic-styled pulpit — half stone, half wood — negotiates its' way discreetly up a centrally located pillar. In the aisle's north, matching gold and black Renaissance confessionals sit subtly, whilst close-by the original Gothic style choir-stalls featuring filigree works echo the outside design of the cathedral. Look upwards, and you will see an almost complete gilded chamber orchestra amusing themselves on the Baroque style organ cover.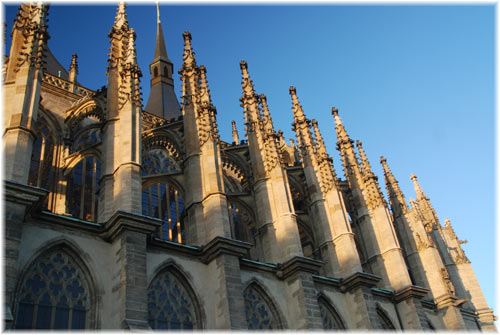 The ambulatory features a range of early 20th century stained window glass. However, from medieval times, it is the frescoes contained in the southern chapels that stand out the most. In the Chapel of Smíšek, there is a fantastic angel orchestra in its' vaulting and a portrayal of Sheba's Queen on 1 of its' walls. Two of the chapels, further along, are the Chapels of the Minters, with walls adorned with 15th-century frescoes displaying the Florentines working.