This is the most popular and biggest fair in Prague, the Czech Republic, and the first spring fair in Europe. St Matthew's Fair, known as Matějská pouť to the locals, is a time-honoured Czech tradition; the earliest recorded festival began over 410 years ago, and although times have changed, the rides have only got better. In total, there are some 130 attractions on the exhibition grounds, including rollercoasters, houses of horror, carousels, waterfalls, virtual reality machines, cannonballs, a water world and a Ferris wheel.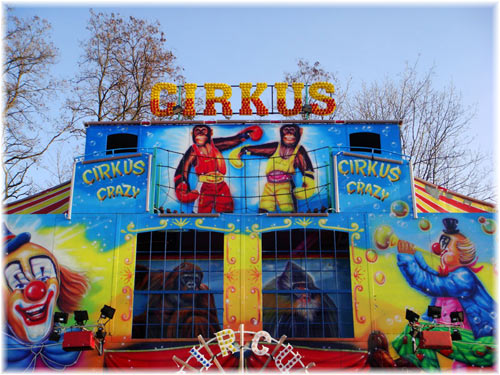 Even though St Matthew's Fair is mainly a place where children can enjoy carousels, rollercoasters and other games, adults and parents accompanying kids will not be left out, with a full range of adrenaline-pumping attractions dedicated especially to them. Some attractions are age-restricted for safety reasons.
Various musical performances on the programme for St Matthew's fair and food stands selling all sorts of goodies, including traditional Czech gingerbread, Turkish honey, the ever-popular cotton candy, and freshly smoked Moravian meats and real slivovitz.
In addition to all the fun that the attractions bring, you can enjoy the accompanying music and show programmes, buy some delicious sweets like traditional gingerbread in the shape of hearts with the names of your beloved ones, Turkish honey and cotton candy. Or if you prefer to taste some Czech sausages, Czech beer or other junk food, there are many kiosks available, and even a decent restaurant.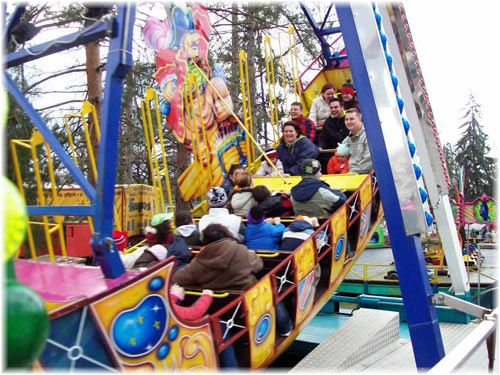 Staying at the park till late has its rewards. On Saturday, the Křižík Singing Fountain premiers its first performance of the season. For CZK 200, visitors can watch performances of the Little Mermaid, Carmen, and Romeo and Juliet, set against the background of colourful fountains that seem to dance to the music. Performances begin at 7:00 pm daily.
Catapult
Visitors are seated in twos and catapulted to a height of a few tens of metres. The price is 200 CZK for a ride.
Carousel
A huge chain merry-go-round, fifty metres tall. 100 CZK for one ride.
Booster
A high-adrenaline attraction where brave visitors are raised a few tens of metres and then go into freefall. Before the seat starts to fall, it turns around a few times on its rubber rope. Price 100 CZK for a ride
Rollercoaster
There are four rollercoasters in total at the fairground, from the smallest one for very young kids who can appreciate fairytale motives to the biggest one, which works almost the whole year—price from 40 CZK for one ride.
Rollover
One of the high-adrenaline attractions, where thrill-seekers are fastened into a long bench which turns on its axis at great speed around its axis; price 70 CZK.
When: the opening date will vary each year. It is usually from the end of February to the end of March.
Open: Sat and Sun from 10 are to 10 pm. Tue to Fri from 2 pm to 9 pm. Closed on Mondays. After FunFair: Tu – Sun 10 am to 10 pm throughout the whole year until the weather allows, usually up till the end of Nov.
Location: Prague's Vystaviste exhibition grounds; Metro C (red line) to Nadrazi Holesovice and then by tram 5,12,14,15, or 17. Get off at tram stop Vystaviste. Website
Admission: each attraction must be paid separately, ranging from 20 CZK to 200 CZK per person. Additionally, you need to pay a general admission fee of 25 CZK.