Though less popular then the Church of St. Nicholas from the Lesser Town, The Church of St. Nicholas in the Old Town Square deserves its place among Prague's most appreciated and visited places.
Historical sources mention this place of worship as early as 1273, originally as a parish church, where Hussitism and Reformation used to be preached. Later in the 17th century the church was in the Benedictine possession and shortly after church was burned down in a fire. New church was build designed by Kilián Dientzenhofer in 1732 and completed three years later. When, in the spirit of the Enlightenment, the Emperor Joseph II evicted the Benedictines later in the 18th century, on the grounds that they were not performing a useful function, the church was used as a warehouse and fell into disrepair. Not until 1871, when it was used by the Russian Orthodox Church, was the church returned to its original purpose. The only noticeable gem from the orthodox era is the splendid crystal glass chandelier. The 20th century brought new decorations especially during World War I when the commander of the occupying garrison invited local artists to restore Kosmas Asam's frescoes of saints Nicholas and Benedict in the dome. Since 1920 the Church of St. Nicholas has been a Hussite Church, with beautiful greenish Baroque towers and dome that can be seen from all over the old town centre.
Today church is regularly used for religious and classical music concerts. Not to forgot mention that church has a 2,500-pipe organ.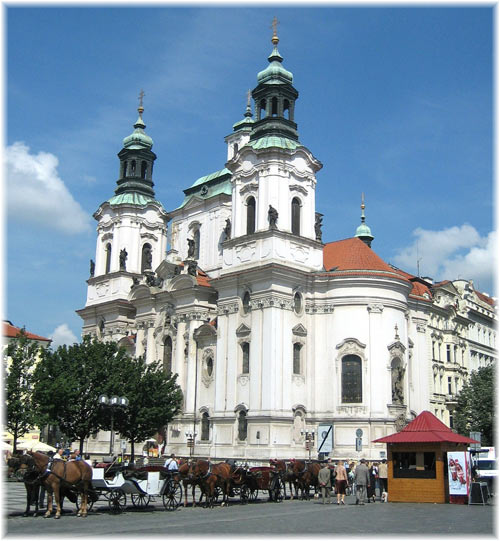 Location: Old Town Square and corner of Parizska Street (Staroměstské náměstí 27a)
Open: Mon 12-4, Tue—Sat 10-4, Sun 10.30 (Mass), 12-3, also for concerts