17th of March
Celebrate St Patrick's Day in a city where, in typical Czech style, they have stretched this festive day into a week of celebrations. When everyone becomes at least a little bit Irish, why not visit one of Prague's many Irish pubs. Prague has some best Irish pubs in-country, mostly owned and run by Irish people. Here is a list and some general information about them.
Caffrey`s Irish Bar – the best choice in Prague; Irish Musical Festival each year; daily live sports
Location: Old Town Square 10, Prague 1, www.caffreys.cz
Molly Malone`s pub – great Irish atmosphere; Prague's oldest Irish pub
Location: U Obecniho dvora 4, Prague 1, website
Dubliner – real Irish pub recently redecorated and upgraded;
Location: Tyn 1, Prague 1, website
Rocky O Reilley`s Irish Pub – popular for Stag and Hen parties; live sports
Location: Stepanska 32, Prague 1, www.rockyoreillys.cz
Flannagan's Irish Pub – quite new Irish pub (formerly known as Shamrock); big-screen TVs; live music nightly
Location: Wenceslas Square 56, Prague 1, www.irishpubprague.com
O'Che's – small but friendly
Location: Liliova 14, www.oches.com
JJ Murphy`s Irish Bar – near Charles Bridge; excellent food and staff
Location: Trziste 4, Prague 1, www.jjmurphys.cz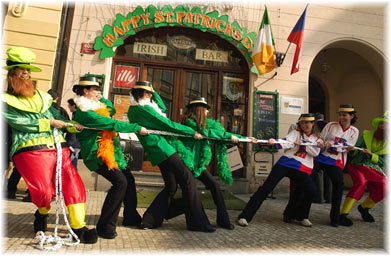 In a place where every bar boasts the "perfect pint," it won't be hard to drink your fill of Guinness or whatever your poison may be. In a warm and friendly atmosphere, why not gorge your senses on a plethora of traditional Irish songs and dances on offer. Don't worry about language barriers. After two or three pints, you will easily start up a conversation with anyone! Even if that entails inventing your own form of sign language.
With a shared Celtic history, a love of pubs, beer and music, St. Patrick's Day seems to have "Czech" written all over … no matter if you are Czech, Irish, or neither; there's some way in Prague for you to celebrate this Irish holiday.