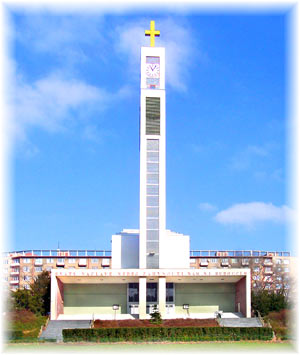 This distinctive, modern theological construction, with an unsymmetrical design, was erected in 1929 to 1930 crafted on the ideas of Josef Gočár's. It's believed to be among the most significant instances of Prague's architecture from the inter war era. An eighty metre towered prism, with a clock on top and a cross, zooms up from the church's front. The design of the architecture, that was selected from an architect's competition involving more than fifty architects, outlines a 3 aisle, skeletal, concrete, reinforced structure including a semi-circle shaped presbytery. This design further made full use of the erratic, bumpy terrain.
The well lit, spacious nave's ceiling also boasts an unsymmetrical look.
The inside of this church is straightforward. The main altar's cross and the depictions of the patron saints of Czech on the altar were made by Čeněk Vosmík. The adjacent alter of the Virgin Mary was made by Karel Pokorný. At the nave's end there's a big stain-glass window showing a horse ridden by St Wenceslaus painted by Josef Kaplický. The Way Of The Cross was made by Bedřich Stefan.
In 1996, different bells were placed in the church's tower –  St Wenceslaus and St Ludmila.
On the 28th Sep 2010, at the front of the church, the figure of the patron saint of the nation, St Wenceslaus, was erected at the church's front with a bronze statue. This statue was sculpted by artist Jan Roith, modelled on the 1929 design of Bedřich Stefan. The church is part of the Roman Catholic Churches.
This is located in nám. Svatopluka Čecha in Vršovice.
In Czech: Kostel svatého Václava (Vršovice)