The Academy building was built between 1891 and 1896, based on the projects and plans of the architect Václav Roštlapil. Originally, the building was used as a student´s hostel, especially for poor sons of Bohemian noble families. The premises of the Academy also include a garden, which was founded thanks to František Thomayer.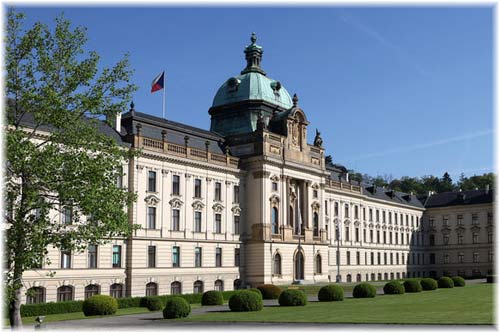 The Straka Academy was named after an imperial privy counsellor, Earl Petr Straka of Nedabylice. Earl Straka left a great part of his property to found the Academy for not-quite-rich male noble descendants in 1710. From these financial means, scholarships were provided, and the educational institution came into existence by the end of the 19th century.
A significant architect, Václav Roštlapil, did the design of the building. The previous Jesuit garden was deemed the right place, and five years later, a complex of buildings with a total area of 4000 square metres, with a garden of another 17,000 square metres, arose here. The building provided the study rooms and administrative offices of the Academy and the reception room, and the cabinets with large collections of learning utilities on the ground floor. The two top floors were reserved for students. Surprisingly, there was even central heating in the building, a spa with a swimming pool, summer and winter gyms, a fencing room and even a hospital.
The Academy provided education for its students in singing, drawing, horse riding, and music. Because there was a fencing room on the premises, students could learn the art of fencing, which was atypical of schools in general.
History and Development of the Academy
After the Academy had operated for two years, a Czech-German Gymnasium was founded here too. In the period of WW1, the Academy fell under the remit of the Red Cross. The Red Cross founded a 470-bed hospital on the premises. The main assembly hall of the Straka Academy was turned into a giant 'operating theatre', and the higher floors were occupied by patients instead of students.
The hospital became disused in 1918 when independent Czechoslovakia was founded, and the new republic used the premises of the Academy for offices and state needs. The institutions of the civil services were moved into the complex, namely the Ministry of Supply, the Ministry of National Defence and the Statistical Office. The Central Association of the Czechoslovak Students founded the academic library, all student archives, and later the Academic house in the remaining part of the building. The building turned into the residence of the protectorate government after the formation of the Protectorate of Bohemia and Moravia.
After WW2, the building served the purposes of the government again. At that time, the Office of the Prime Minister moved into the building with the first Czech post-war Prime Minister, Zdeněk Fierlinger. The Czech Government Office has been residing in the building of the Academy since 1993.