Slavia Praha swimming stadium
Located in Vrsovice, this facility includes a 25-metre indoor pool, a 50-metre outdoor summer pool, a children's pool for kids aged six and under, a swimming school, a sauna, a massage solarium, cosmetics, refreshments and a fitness centre. Getting there: by tram 6, 7, 19, 22, 23, 24 to the Kubánské náměstí stop; Open: Weekdays: 6 a.m. – 7 p.m.; Weekends and public holidays: 9 a.m. – 7 p.m.; Admission: CZK 120 for a 1 day access; Address: Kubánské square – Vladivostocka 10, Prague 10.
Barrandov Prague Aquapark
The Barrandov Aquapark is an ideal place for the whole family, offering as it does an opportunity for sports and relaxation. The facility boasts a swimming pool, waterslides, wave pool, massage pool, hot tubs, children's pool and sauna, as well as a bar and restaurant. In the summer, an outdoor area and volleyball court are open. No one will be bored with this water world! Address: Aquapark Barrandov, Prague 5 – Hlubočepy.
AquaPalace Cestlice
This new indoor water park opened just recently. Touted as 'the largest water park in central Europe', the facility features saunas, a spa complex, and a fitness centre, along with a variety of pools and nine water slides. It's an attractive destination for families looking for some summer fun. Getting there: 10 minutes ride from Prague-Opatov by public transport.
Podolí swimming pool
is the largest and best one, indoor and outdoor pools, a sauna, steam bath, water slide, solarium, and massage services, Address: Podolská 74, Prague 4  (read more)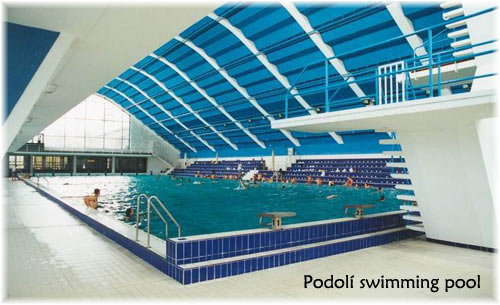 Bazén Hostivař
Enjoy the swimming facilities at the Hostivař Reservoir, which features grass and sand beaches, paddle boats, kayaks, canoes, windsurfing and a separate nudist beach. Admission: 70 CZK; Open: June – August: 9 a.m. – 8 p.m.; Getting there: by tram 22, 26 to the Nádraží Hostivař stop or by bus 165, 170, 212, 213 to the Jižní Město stop Address: Bruslařská 10, Prague 10
Sokol Královské Vinohrady
(for nude swimming), Address: Prague 2, Polská ul. (in Riegerovy sady)
Aqua Blues Hloubětín
(the only one in Prague with seawater), Address: Prague 9, Hloubětínská 80
Džbán Reservoir
Invigorate yourself in the pure spring water at the Divoká Šárka swimming pool while taking in the picturesque surrounding scenery. Facilities include a swimming pool with a special section for nude bathing. Getting there: by tram 20, 26 to the Divoká Šárka stop or by bus 108, 119, 179, 218, 225 to the Divoká Šárka stop; Admission: 60 CZK; Open: June – August: 9 a.m – 7 p.m. (weather permitting) Address: Šárka Nature Reserve, Praha 6. 
Petynka swimming pool
Come and enjoy this 50-metre heated pool surrounded by grass beaches and featuring a 100-metre water slide and a wide offer of sports facilities. Getting there: by tram 15, 25 to the Hládkov stop or bus Nos 108, 174, 180, 217 to the Na Petynce stop; Open: June – August: 7 a.m. – 9 p.m.; Admission: from 90 to 150 CZK for a 1-day access ticket; Location: Otevřená 1072/4, Prague 6 – Střešovice 
Motol swimming pool
Enjoy the charming atmosphere of the sand-bottomed Motol ponds, including a popular nudist beach. Getting there: by tram 7, 9, 10 to the Motol stop or by bus 174, 179, 180, 184; Open: June – August: 9 a.m. – 8 p.m.; Admission: from 30 to 50 CZK for a 1-day access ticket; Location: Zahradníčkova, Prague 5 – Motol
O2 Žluté lázně sport centre
Come and take a swim in the Vltava River, lounge in a hammock on the sand beach or enjoy a selection of sports activities. The centre offers beach volleyball, enclosed mini-football, outdoor chess and a children's corner with numerous attractions. Enjoy the lively Blue Bar and Dance Hall in the evening hours. Getting there: ferry from the Zlíchov (Lihovar) stop or by tram 3, 16, 17, 21 to the Dvorce – žluté lázně stop or by bus 118, 124 to the Dvorce stop; Open: June – August: 8 a.m. – 2 a.m.; Location: Podolské nábřeží, Prague 4 – Podolí
Na Stírce swimming pool
Come with us to the outdoor Na Stírce swimming pool and enjoy a Finnish sauna, petanque and croquet! Getting there: by metro C to the Kobylisy station or by tram 10, 14, 17, 24, 25 to the Stírka stop or by bus 144, 152, 162, 169, 177, 200; Open: Daily from 9 a.m. till 8 p.m.; Admission: 110 CZK for a 1-day access 
Pražačka swimming pool
Located in Žižkov, Pražačka offers summertime swimming in an outdoor pool, including popular evening hours. Getting there: by tram 1, 9, 16 to the Vápenka stop or by bus 133, 134, 136, 207 to the Ohrada stop; Open: July and August – weekdays from 6 a.m. – 10 p.m., with one-hour breaks at 8 a.m. and 7 p.m. and weekends from 10 a.m. – 7 p.m.; Admission: 90 CZK; Location: Za Žižkovskou vozovnou 19/2716 Prague 3 – Žižkov
Aqauapark Lagoon Letnany
Address: Tupolevova 655, Prague 18; Webiste: www.letnanylagoon.cz
Hotel AXA
Address: Na Poříčí 40, Prague 1; Webiste: www.axa-hotel.cz
Sportcentrum YMCA
Address: Na poříčí 12, Prague 1; Webiste: www.scymca.cz
Hotel Olšanka
Address:  Táboritská 23, Prague 3; Webiste: www.hotelolsanka.cz