The synagogue dating from 1983 has a colourful history. At one time, it was downgraded to a storehouse, and since the 1990's it was carefully renovated in several steps as well as extended. Today, the building serves as an archive space for the Jewish Museum. In addition, reading and study rooms are located here as well as a book store.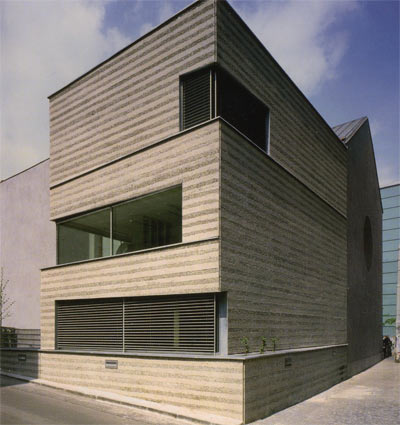 It is located on the left bank of the River Vltava, about a kilometre away from Prague Castle, in an area called Smichov. It used to be a grimy, rather sordid neighbourhood, home to smoke-belching factories, the Staropramen brewery and the city's seediest bars. Smichov has never had much to recommend it (or at least not in my opinion), except for one, rather a curious landmark. Just as the tram pulls out from the Andel station, you pass a grey, functionalist-looking building, and its doors padlocked shut. At first, it looks wholly unremarkable, a storeroom or an electricity substation perhaps. But if you peer closely at the walls, you spot an inscription written in Hebrew. This is Smichov Synagogue. It was built in 1863, originally in the neo-Romanesque and Moorish style, to serve Smichov's Jewish community. Jews had lived in Smichov since the mid-18th century and fought for many years to have a synagogue of their own. It was later rebuilt by a functionalist architect, which explains its rather a drab exterior. 
Then, of course, came the war, and the synagogue was closed, although the Nazis spared it demolition. After the war, the Communists gave the building to the CKD heavy engineering works, which used it as a storeroom. Not until 1989 was it returned to Prague's tiny Jewish community. Since then, the synagogue has remained padlocked and closed, but the area around it has received a thorough facelift. Gone are the factories and the dilapidated buildings. In their place have sprung up two enormous shopping centres, complete with a multiplex cinema. The Smichov Synagogue now finds itself sandwiched between these two commercial monoliths – a reminder of a different era.
The Jewish community has recently started renovating the synagogue, which will eventually serve as a depository for the Jewish Museum. The Smichov Synagogue will probably not be open to the public, although private tours might be allowed. The interior is said to be quite impressive, although, for me, it's the location which is the most interesting thing about it. The finer juxtaposition of Prague is old and new: a forgotten place of worship and a reminder of the city's tragic past amidst all this commercial excess.
In Czech: Smíchovská synagoga