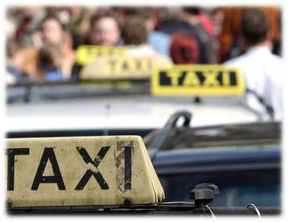 On 17 August 2011, a taxi driver from Prague and his accomplice robbed a foreigner who refused to pay an overpriced fare.
In late May, a taxi driver charged a customer 3000 Crowns for a journey from Žluté lázně (near Vyšehrad) to a hotel in Mozartova Street, Prague 5, but the customer refused to pay. After threats from the taxi driver's accomplice, the foreigner was forced to pay 4000 Crowns and informed the police spokeswoman Eva Kropáčová.
According to Kropáčová, it was the driver's accomplice who, immediately after reaching the destination, started threatening the foreigner with a clenched fist and kept warning him not to make any trouble. "The customer wanted to leave the car, but the driver locked the door, so he could not escape. After repeated threats and in fear of his life, the customer surrendered to the demands of both men," said the Prague police spokeswoman.
Then the bullies took the customer to an ATM, where the victim withdrew 4000 Crowns from his account. The men took the money and left. The police managed to find the taxi crew, and the driver was arrested on Tuesday.
The driver was charged with the criminal act of robbery, for which he may be sentenced to as much as ten years of prison.