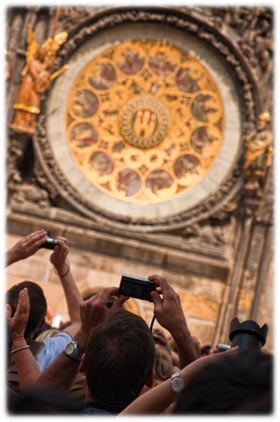 The Czech Republic is an attractive destination to Russians and tourists from countries such as Ukraine, Lithuania, Latvia or Estonia; tourists from these countries perceive the Czech Republic as a country suitable for sightseeing tourism.
An above-average interest in visiting the Czech Republic (compared with Western or Eastern Europe) was recorded by the agency Czech Tourism, which researched all five monitored countries. In the case of spontaneously mentioned favourite holiday destinations, the Czech Republic appeared in fifth place in Ukraine, in ninth place in Russia, and in thirteenth place in Lithuania. The Czech Republic was also listed as an attractive place in the trip planning ratings.
The countries' population also includes a high percentage of inhabitants who already have personal experience of visiting the Czech Republic (for Latvia and Lithuania, half the respondents; and for Estonia, one-third). These same people often intend to repeat their visit and also recommend it to others. This attitude was observed most markedly in the case of Ukrainians and Lithuanians; Latvians and Russians expressed their interest almost equally intensively. Estonians declared the lowest interest among the countries monitored; however, it was still high compared to other European or non-European countries.
"Russia and Ukraine are critical source markets to us, where we must not lose contact. We notice an increasing interest in eastern countries that were not included in the research: Kazakhstan, Azerbaijan and Uzbekistan," states the Managing Director of CzechTourism. The economic potential of the Russian market especially is enormous, according to him. But the necessity to apply for a visa, which Russian tourists perceive as the greatest obstacle to their travel to the Czech Republic, continues to be a problem.
According to the research results, the Czech Republic is regarded as a certain bridge to Europe in the countries monitored. At the same time, a surprisingly high interest in seeing regions other than Prague was shown. Respondents emphasized a great interest in visits to "provinces" (towns, and especially countryside, less visited by tourists) and in familiarizing themselves with an authentic Czech environment ("how ordinary people live").
In the Czech Republic, Russians admired "clean towns, the keeping of urban public transport timetables and the lack of an atmosphere of the hustle and bustle, stress and aggressiveness in the capital city." Ukraine tourists very much appreciated Czech cuisine and regarded it as varied and delicious.
Czech spa and wellness stay attracted tourists from all five eastern countries where the research took place. This was true for two-thirds of the respondents in the case of Latvia, and in Lithuania and Estonia, Czech spas were regarded as attractive by half the respondents. Czech spas were attractive to them thanks to their affordability.
The research took place in the monitored countries in the form of telephone interviewing (CATI), a sample of 11,000 respondents, and in the form of group discussions in 25 selected towns from September to December 2011.