Just a short walk from Hradcanske Square is Loreta Square, a significant pilgrimage of the Christian world.
Prague Loreta shrine was built in the baroque style in 1626 – 1750 (founded by Benigna Katerina Lobkowicz). Loreta was designed as a replica of the Virgin's relocated house – the Santa Casa. The famous chime, which contains 27 Loreta handbells, is located in the tower and plays Our Lady's song "We Greet You A Thousand Times". The Loreta treasure includes the valuable diamond monstrance, which is decorated with 6222 diamonds and is the most attractive piece in the exhibition (made in Vienna in 1699). On the silver altar is a small ebony statue of the Virgin. The rich stucco reliefs, depicting scenes from the lives of the prophets, are by Italian artists. Just behind Loreta is the Church of the Nativity of Our Lord, built in 1737. This church was designed by Kilian Dientzenhofer, with ceiling frescoes by Václav Reiner and Johann Schopf. On the corner of the courtyard, you can find the Chapel of Our Lady of Sorrow. On the first floor worth seeing is the Loreta treasury, with a collection of vestments and other religious objects. Most amazing is Prague Sun (Prazske slunce), made of solid silver and gold and studded with 6222 diamonds (90cm tall).
Legend tells us
In 1278, so the story goes, the Virgin Mary's house in Nazareth was miraculously transported by angels to Loreto in Italy and saved from the Infidel. The Marian cult became an important propaganda weapon of the Counter-Reformation and, following the defeat of the Protestants at the Battle of the White Mountain in 1620, some 50 other Loreto shrines were founded in Bohemia and Moravia.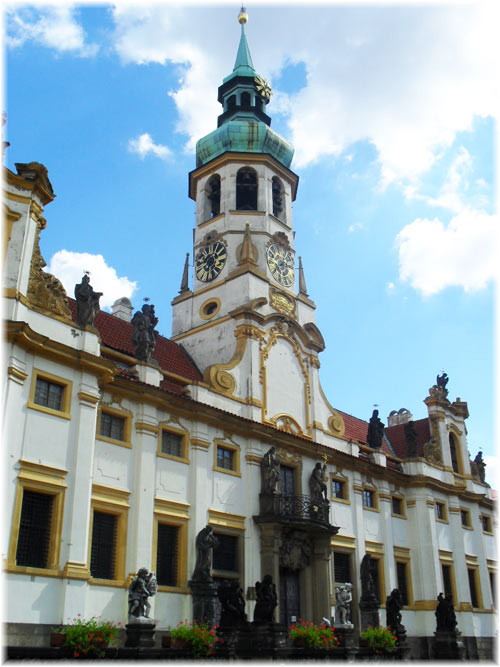 Location: Loretánské náměstí 7, Praha 1
Admission: 90 CZK
Opening hours: Tues-Sun 9.15am-12.15pm and 1-4.30pm.