Visualise a location encompassing all conceivable architectural and natural serenity, a jewel of history set amongst unspoilt scenery and a centuries-old town tucked away within a dense forest at the base of a mountain. You are picturing Český Krumlov, which is probably the most enchanting place you will discover in the Czech Republic.
This town of South Bohemia (close to the border with Austria) has been awarded the 2012 Golden Apple prize, which is an important award representing the tourist industry's equivalent to the film Oscars. This town, UNESCO listed, has also been added to the well-regarded listing of the world's most significant travel destinations.
This recognition of Český Krumlov is due to its' amazing quantity of significant historical and cultural landmarks that garner much attention from international and native visitors. The award decision was swayed by Český Krumlov's highly-rated and diverse modern social and cultural presence. This town does not simply live off its' history but has events taking place to this day which are frequently visited by celebrities from both the domestic and international cultural scenes. For instance, the hit of the previous year's International Music Festival in Český Krumlov was Plácido Domingo, the top opera performer. Český Krumlov will celebrate its' twentieth anniversary this year of being mentioned on the UNESCO Cultural Heritage sites of the world listings, which also influenced the decision to award the town this latest accolade.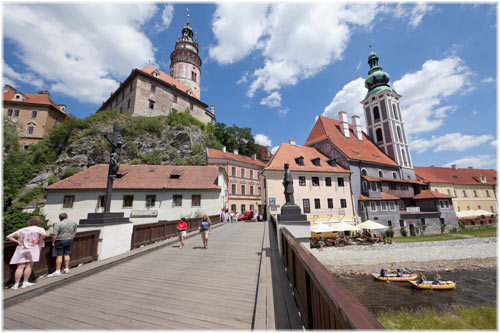 Often referred to as "The Pearl" of the South of Bohemia, Český Krumlov is frequented by over one million tourists each year, sixty percent of whom are visitors from across the world (mainly from Canada, the USA, Japan and South Korea). While a monetary prize does not accompany the Golden Apple accolade, it is obvious that this important award will greatly increase tourism to the town and allow it to benefit financially in that way. The town, additionally, will enjoy a raised profile amongst travel journalists (FIJET has a membership of about 1000 people from across the globe), along with the tourists themselves.