No stay in Prague is satisfactory without a walk down the cobbled streets of its' historical centre up to Charles Bridge and the castle.
This route emulates the processional path that the queens and kings of Bohemia took at their coronations, beginning in 1458 with George of Poděbrady. Their carriage would depart from  Celetná, move across Old Town Square and go alongside Karlova before going through Charles Bridge and alongside Mosteká into the Lesser Quarter Square before travelling, via Nerudova, towards St. Vitus Cathedral in a castle compound which is where new monarchs would get crowned.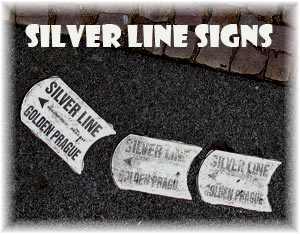 This walk, enshrined in history, shouldn't be overlooked by anyone visiting Prague's old centre, as it's been outlined using a silver coloured plate, which is still visible on the pavements and bears the label: 'Silver Line'.
Start at Art Nouveau Municipal House and Náměstí Republiky. The city's royal palace used to be here, and the Royal Court used to travel to the castle for big occasions like coronations. Next to Municipal House's Powder Tower, founded in 1475, it records the place where the city's royal palace used to stand.
From Náměstí Republiky negotiate Celetná Street onto the Old Town Square. The Astronomical Clock and the Old Town Hall are the most famous attractions of the square; also look for the monument of Jan Hus. Travel past the clock and head to Karlova Street. Watch out for The Golden Snake House at number one hundred and eighty-one, where the first café in Prague was opened in seventeen fourteen. Soon after, you will get to Charles Bridge, constructed in thirteen fifty-seven. Move over to the Lesser Town and, at the rear of Malostranské náměstí, you will discover St. Nicholas Church at Baroque stunner. Go down Nerudova Street (which has distinctive medieval signs on the houses like Green Lobster, Red Lion and Golden Wheel) towards Prague's Castle. Once you get there, look around the Deer Pit, St. Vitus Cathedral, the Belvedere, the Royal Garden and Queen Anne's summer home constructed by Ferdinand the first.
Don't exit at the Royal Gardens; instead, make your way back to Lesser Town via the castle's grounds and explore the vineyards at St. Wenceslas. These were planted by Charles the fourth and opened again in June of 2008 with 3 restaurants. It took eighteen years to finish the re-building of the villa and vineyards.