Trams in Prague are quite a fast way of getting around and, compared to the metro, you will have the chance to see much more. Trams are also Prague's oldest method of public transport. Horse-drawn trams appeared on the streets in 1879, but by 1891 the first electric tram was in operation.  Some lines only operate in the rush hour, and there are many night trams, all of which pass by Lazarská in the New Town.
Tramlines are well structured and organised, cover a large area of the city (with 500 km of tracks) and are used by some 300 million people a year. Daytime trams run from 4.30 am till midnight in eight-to-ten-minute intervals (8 to 15 minutes on weekends). Night trams (numbers 51-58) run from 12.30am until 4.30am in 30-to-40-minute intervals. The central interchange tram stop of night trams is Lazarská stop. Timetables can be found at tram stops. Buy a ticket before boarding the tram and then insert it into a machine inside the door to validate it. Doors open or close automatically, or you must push a button. 
Tram tickets can be purchased from vending machines or newsagents. Same tickets are valid for buses and metro too. But don't forget, you have to buy your ticket before you board a tram. Once you have entered, you will see two or three small punching machines on metal poles just inside the door. Insert your ticket, and it will be stamped automatically. If you do not punch your ticket, it is not valid and, if a ticket inspector catches you, you will have to pay a quite high on-the-spot fine.
Every time a tram pulls up to a stop, two different names are announced: the name of the stop you are currently at and the name of the stop coming up next. Confused visitors, wondering they've heard their stop, are notorious for hurrying off the tram one stop too early.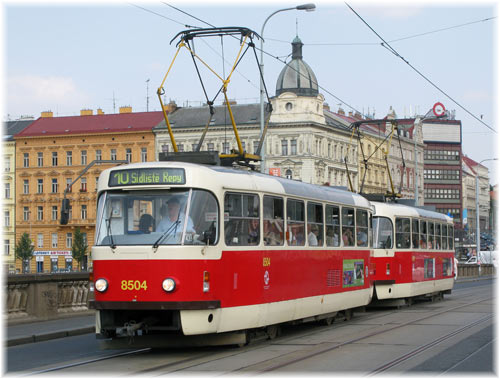 Useful Tram Routes
Bellow listed tram routes are the most useful for getting around the centre of Prague. They pass many of the major sights on both sides of the Vltava – a pleasant way of sightseeing.
Follow one of Prague's most scenic routes, passing by the National Theatre to Staroměstská and Malostranská metro stations, and continuing up to the Belvedér, Prague Castle and Pohořelec, with some stunning views on the way.
From Charles Square to the Letna Park.
From Vysehrad to the Letna Park.
 Another useful tram route is No.9. This tram runs across the city via Wenceslas Square and onto Lesser Town.
The Nostalgic Tram no. 91 runs on weekends and holidays from the end of March through mid-November. The tram leaves from Střešovice every hour from 12 noon till 6 pm and continues through the city centre. The ticket costs 35 CZK for adults, 20 CZK for children and seniors over 70.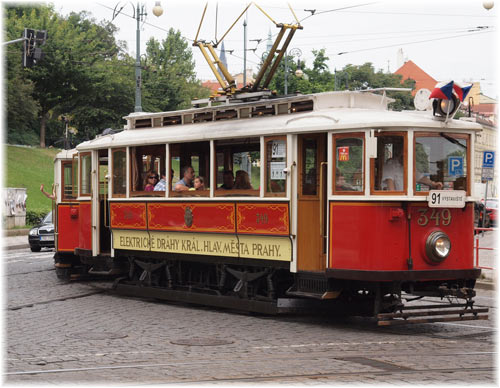 Note: It is important to give up your seat to an elderly or disabled person on public transport. You'll notice people offering their seats to the elderly, which is actually part of the system's regulations.