Troia, a quiet part of Prague situated on the slopes on the right bank of the river Vltava is a popular beauty-spot for many of Prague's inhabitants and a great place for tourists tired from traffic and hustle of the historical part of Prague. The dominant of this verdant area is the Troja Chateau, with a botanic garden and Zoo in its vicinity.
Troja Palace is a Chateau turned gallery within extensive gardens (includes a hedge labyrinth). Cross the River Vltava from Troja Palace and you will enter Stromvka Park which is full of many different kinds of trees, ponds, beautiful flowerbeds and also some old buildings. The best time to visit is of course during summer when the park is in full bloom. Vystaviste is a modern complex surrounding some older buildings and the venue for a regular turnover of festivals, performances and shows (fountain and lighting shows). It is not the most attractive place but has very interesting entertainment.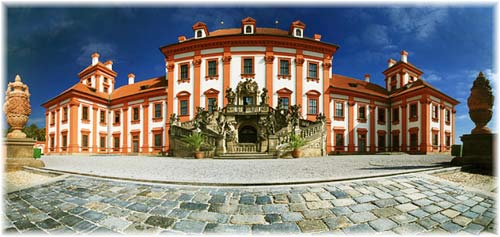 The first Baroque summer palace in Prague was built in 1679-1685 by the Burgundian architect J.B. Mathey. The garden and the chateau are connected by a stairway with statues of Antic Gods and Goddesses. Dresden Heermann brothers are the authors of the sculptures. The interior of the chateau is decorated with rich ceiling and wall paintings by F. and G. Marchetti. Since its general reconstruction (1977-1988) exhibitions from the collections of the Prague Municipal Gallery have been installed here. The exposition of the Baroque glass is installed in the second part of the chateau.
How to get to Troja?

From the centre, take line C to the underground station "Nádraží Holešovice". Once there, take bus no. 112 (intervals approx. 10 minutes). You can get back by boat. The cruise from the Zoo to Rašínovo nábřeží (in the centre) takes 75 minutes; the boats leave at 11.00hrs, 14.00hrs and 17.00hrs during the high season.
Location: Prague 7, U Trojského zámku 1
Getting there: Metro C – station Holešovice, Bus 112 – stop ZOO
Open: daily except Mondays: Tue-Sun 10-19; Fri 13-19; closed in winter November – March
Admission: 120 CZK, admission free with Prague Card