Cheese platters are quite common and are composed of slices of eidam, hermelín (camembert) or niva (blue) cheese with a chunk of butter, a dash of paprika, and perhaps a pickle and a basket of rolls or bread.  Also, meat platters are popular – slices of ham or various salamis in addition to or in place of cheese.
"Utopenec" (Drowned man) — so-called because it consists of soft, strong, spicy sausage filled with onion and spicy paprika, seasoned with pepper and covered or "drowned" in a liquid made from water, vinegar and salt. After several days in cold storage, the smoked meat becomes a spicy delicacy. 
Salty pastries — various salty pastries are also usually available in our country to accompany the beer. Pretzels are particularly popular. 
Pivní sýr — a little cream is added to dairy cheese, and it is whipped up into a froth into which a small amount of fresh garlic is pressed. 
Topinka — it is a piece of dark bread fried in salt, garlic and lard or oil. It is traditionally served with scrambled eggs, grated cheese, a meat mixture, or spicy cheese spread. 
Pickled Hermelín — Hermelin is a camembert-type cheese. This one has been marinated in oil with onion, garlic, hot peppers and spices.
Zavináč (rollmop) — is a piece of pickled mackerel or herring (or other fish), rolled and stuffed with several pickled vegetables (onion, sauerkraut or sometimes pepper or carrot).
Tlačenka s cibulí  (brawn and onion) — is a piece of haggis-resembling meat dessert, garnished with vinegar and sprinkled with freshly cut slices of onion.  Be aware that these are often quite acidic because of the vinegar.
Romadur — is a traditionally made cheese with a powerful smell.  The smell is often likened to Tvarůžky, although Romadur is not the same category as cheese.
Matesy s cibulí (a soused herring) — is a chilled fish dish served alongside onions.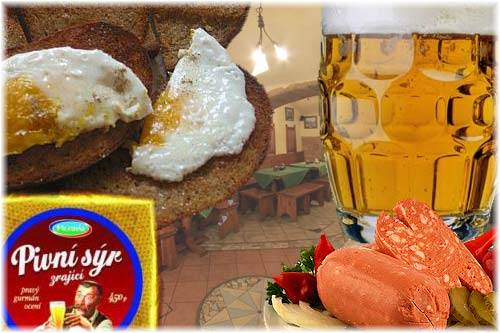 Pub Food in Prague
Prague's traditional Public Houses are the pride of the nation.  Although beer is the main attraction, many customers also greatly enjoy the food they eat at communal dining tables.  Despite the prevalence of stylish, modern restaurants in this continuously progressive city, these traditional pubs look destined to remain for the long term.  Possibly the most well-known pub meal of them all is roasted pork knuckle – and you will find this featured in any pub worth visiting.  There are many more things to try on a traditional menu, though.  You could sample some smoked mackerel, a dried and blackened pub standard consumed cold.  If that does not stimulate your nasal senses enough, then consider trying Olomoucské syrečky, which is a rancid cheese that the town of Olomouc is famous for.  This is often fried, although cooking it like this does not reduce its' unforgettable aroma.
On the opposite end of the spectrum is Tlačenka, which is virtually odour free.  Nonetheless, it compensates for this with a most distinctive composition of secret pieces of meat bound together using aspic.  This could only be translated, approximately, as: 'head cheese'.
If Tlačenka is too much to handle, many Public Houses will put together some raw beef on a plate served with some fried bread, paprika, raw garlic, pepper, salt, and mustard topped with an egg.  This is called 'Tatarák' and is basically a Czech Rep style beef tartare.  The procedure involves rubbing the bread with some raw garlic and then topping that with some raw beef with the spices and egg mixture.
Sometimes, you might notice a dish called 'Jitrnice' on the menu.  This is a sausage composed of the pig's intestine, which has been stuffed on the spot as soon as the pig is slaughtered.  If your stomach can digest this, you can also try a variation on this called 'Jelito', which has grain and blood mixed into it. There is nothing that hits the spot like a well made Jelito.
Mini-sandwiches. For a quick snack, try popular locals mini-sandwiches (obložené chlebíčky). Each of those is like a miniature slice of baguette with a sliver or two of ham or salami, hardboiled egg, mayonnaise and topped with a piece of pepper or pickle.