CLOSED DOWN
Music club U Bukanyra, which U Bukanyra could translate as 'At Buccaneer's', is located on the boat. This boat drifts on the river Vltava sometimes, so it is better to look on the internet to find out where it is harboured at the time. However, it changes location very rarely.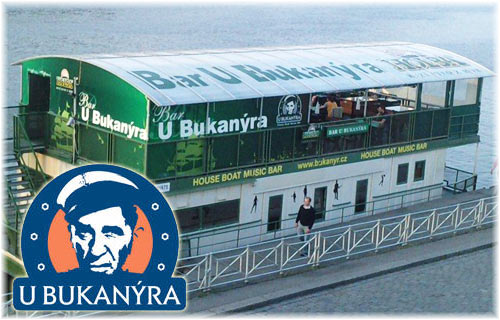 The club relies on DJ production only, so no live bands. The main music styles there are house and Prague favourite drum'n'bass, and one has to admit it is nice to dance to kick drum on the boat, which actually floats and swings in the waves. You can hear other styles there, though: minimal, trance, and techno to the jungle.
Parties take place inside the boat. Behind the entrance, there is a place where you can sit down on sofas and have a drink at a table, and there are DJ decks too. Next, there is the moderate-sized dancefloor (remember it is a boat) with a few tables and a bar. At the rear part, there is the chill-out area. Prices at the bar there aren't too high, but they aren't too low either.
You should get there through the bridge from the embankment. In the summer season, the upper terrace is opened, offering a bar, grill, three foosballs and many places to sit. Also, there is a regular 16mm film projection.
U Bucanyra houseboat is, thanks to its location in the centre of Prague, friendly atmosphere, quality sound system and free entry, quite a sought-after place for entertainment not only for many Czechs but also for many foreign visitors to the capital city.
Address: Horejsi Nabrezi, under Palackeho Bridge, near botel Admiral, left side of the river.