Even if you are only spending a short amount of time in Prague, you will be very aware of Wenceslas Square and probably spend a lot of your time in the surrounding region. If you are looking for a great dining experience, U Kalicha, which translates as The Chalice, is only a few minutes walk from the square, making it the ideal stop-off for any traveller to Prague. The pub is open between 11 am and 11 pm and offers live music every evening, which means this a place to eat, drink and be merry in a traditional Prague style. It is important to experience local culture when you can, and this is a perfect way to have a traditional Czech night!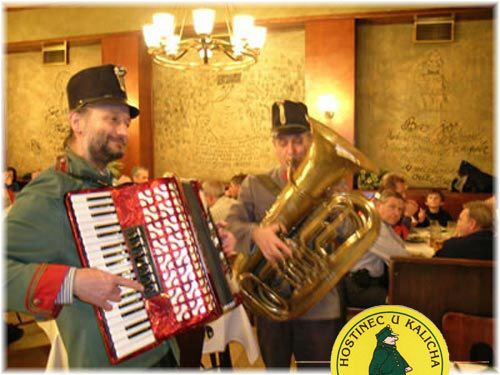 There Are Great Specialities to Enjoy
With prices starting from 60czk for soup and rising to 300 CZK for restaurant specialities, there will be something for every budget in U Kalicha.
If you are planning on having a large night out, the all-inclusive offer for 1,000  CZK could provide excellent value. For this price, a reveller gets to select an unlimited amount of food from the selected menu. This menu contains items such as starters of Prague ham with pickle and butter or Widow Palivec's chicken salad.
There are soups, fish, poultry and vegetarian dishes and a fine range of traditional Czech meals like Goulash and dumplings or roast piglet with dumplings and cabbage. There are also restaurant specialities like beefsteak or cutlets and French fries to enjoy, and the evening of fine dining can be topped with salads, desserts and a wide range of side dishes.
Drinks Are Unlimited as Well
Given that there is an unlimited amount of food for 1,000 CZK, people should be able to get their monies worth, but the package also includes unlimited beer, wine or soft drinks. This is a fantastic offer and should be seriously considered if you want a full Czech dining experience, drinking, and revelry. If you are travelling in a group, booking in advance is recommended to ensure you do not miss out on the fun.
Address: U Kalicha Pub Restaurant, Vinohrady, Prague 2