The Lesser Town area of Prague is quieter for tourists, but there are still many great reasons to visit this area. The quieter nature of the location also makes it an ideal place for some tourists who want to avoid the hustle and bustle that goes with many tourist destinations. This is one of the most romantic restaurants in Prague, making it the ideal destination for couples on holiday or even a honeymoon. Eating together is an enjoyable activity for couples, and the setting of this restaurant makes it perfect for star crossed lovers.
There is something else to get excited about when it comes to this area of Prague, though, and that is the U Maliru Restaurant.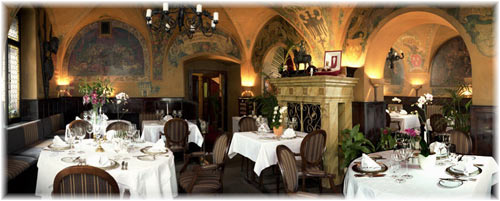 Meat Lovers Will Be Delighted With Their Options
The meat dishes in the U Maliru Restaurant sound exquisite, and any meat lover will be well advised to try out what the restaurant has on offer. There are vegetarian options, so non-meat eaters do not have to miss out, but the quality and range of meats on the menu sound hugely appealing.  This restaurant excels in providing traditional Czech meals, so if you are keen to experience the joys of local cooking, this is a perfect restaurant for you.
Choosing between beef steak or veal saddle may be difficult for many people. Still, the fact that the steak comes with baked potatoes and is also accompanied with chive cottage cheese and is wrapped in bacon may be enough to convince many people that this is the meal for them. The price for this meal is 750 CZK, whereas it is 690 CZK for the veal saddle.
Duck, Pork and Roe Deer Are on the Menu
Other meat options include duck, pork sirloin and roe deer saddle. This comes with black gnocchi and is wrapped in a pancake, also priced at 750 CZK. The meat options available in the U Maliru Restaurant are fantastic, and any meat lover will be keen to return to this restaurant during their stay.
The restaurant has a number of alcoves that can provide the perfect setting for group meals, but if there are many people, it is worth booking in advance to ensure that space can be provided. This is because the restaurant is very busy on most nights, which is no surprise given the wide range of food on offer.
Address: U Maliru Restaurant, Lesser Town, Prague 1