U Zlate Studne Hotel (At the Golden Well), located in close quarters to the Prague Castle, abounds in a homely cosy atmosphere and beautiful view of Prague from an exciting point.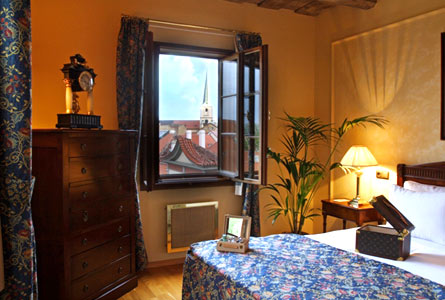 The entry to the hotel is exceptional – there is a separate narrow alley leading to its entrance and ended by it as it is otherwise blind. The hotel does not have a presidential apartment as such; thus it is only divided into rooms and so-called suites, which are a lot more representative. However, the Tycho de Brahe and Rudolf II apartments can compete with many presidential apartments.
Part of the U Zlate Studne rooms offers an unrepeatable view of Prague, and one can really get the full flavour of it from his/her room and the restaurant, especially from the summer terrace. The hotel's speciality is then the so-called pillow menu when the quest chooses what type of pillows he/she would live to have under his/her head, along with their scent. And it is these details that can sweeten your stay the most.
This is where for example, the team of Rubense Barichell or model Adriana Sklenarik stayed. Prices in the best apartments start at EUR 450. 
Facilities in all rooms
include air-conditioning, satellite TV, cordless telephone, wireless internet access, minibar and safe. Luxurious bathrooms in each room feature heated floors and a Jacuzzi bath, and all the modern necessities such as hairdryers.
Hotel facilities include
complimentary high-speed wireless internet access, DVD library, concierge, valet parking, business centre, turndown, exchange and laundry services.  
Superior Rooms
Spacious Superior Rooms offer splendid views of the Royal Gardens or the charming cobblestone courtyard. They are equipped with a large desk, armchair, DVD/CD player, radio alarm clock and high-speed wireless Internet access. Rooms have a Queen size bed or two twin beds, a bathroom with a heated floor and a Jacuzzi bathtub. 
Deluxe Rooms
Deluxe Rooms offer magnificent views over Prague's romantic rooftops or the Royal Gardens. Rooms are equipped like the Superior rooms with a large desk, armchair, DVD/CD player, radio alarm clock, high-speed wireless Internet access and safe. Modern bathroom with Jacuzzi.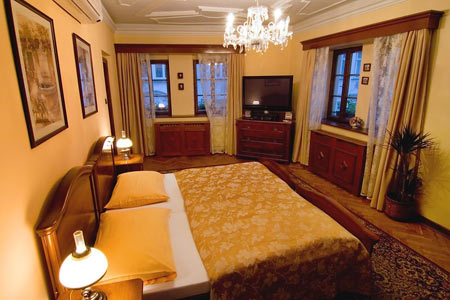 Suite Rudolf II.

Rudolf II Suite, furnished with reproductions of antique pieces from the 17th, 18th, 19th centuries, offers spectacular views of the Prague skyline. Separate bedroom and living area ensure plenty of room, equipped with a large desk, armchairs and pull-out sofa. In addition, the luxurious bathroom features a bidet.
Suite Tycho de Brahe

Experience authentic Alchemist Suite in the former residence of the famous Emperor Rudolf II and his famous astronomer Tycho de Brahe; taste a harmonious blend of traditional elegance and contemporary luxury embellished with unbeatable stunning views of Baroque Palace Gardens and the city of Prague, the City of 100 spires like on the palm of your hand.
Authentic reproductions of original antique pieces from XVII, XVIII and XIX centuries have been skilfully crafted by prestigious Richelieu furniture designer, which adds a specific charm and refined, timeless elegance to the hotel. Each room has its own unique layout, design and character.
Enjoy in-room facilities including a pillow menu, Egyptian Cotton Linens, luxury bathrooms all with heated floors and Jacuzzi, Molton Brown amenities, Wi-Fi high-speed internet access and even much more from just 450 EUR.
And if you ask who from celebrities stayed there, we can name Adriana Sklenarikova-Karambeau.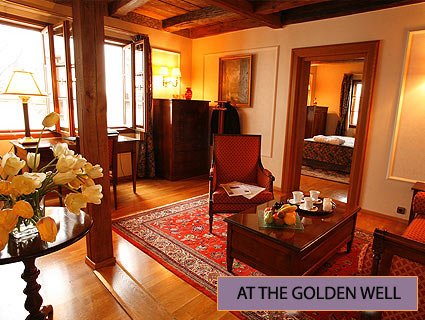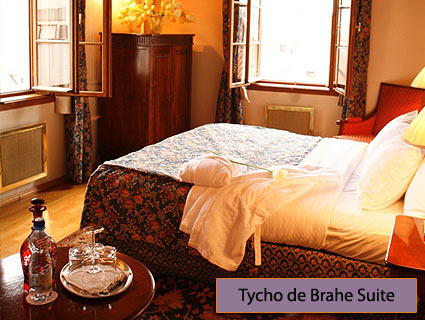 Tip: hire a luxury limousine from Prague Airport to your hotel in Prague
Restaurant U Zlate Studne (At the Golden Well)
is a first-rate restaurant that also happens to have one of the best panoramic views of the city. This hotel restaurant is reputed for its rich, though affordable dishes. This is somehow a Bohemian cuisine museum, with most of the Old Czech specialities available. Our recommended appetizers are the "Smoked South Bohemian Trout Fillets, Yoghurt Dressing with Dill", "Prague Ham marinated in Spices and Peppers".
Main dishes, like the "Old Bohemian style roast Crispy Duck", "Roasted Lamb Knee on Beer, Garlic and Rosmarine" make guests come back. At the same time, the "Lava Grill Steaks", served with grilled peppers, "lutenice" (especially flavoured mustard and vegetable mixture), and potato pancake, are worth the visit.
Don't leave this lovely restaurant without trying the "Homemade Old Bohemian Yeast Cake", with vanilla ice cream, one of the most popular Czech desserts.
The restaurant offers friendly service and superb dining. The terrace is located below the castle gardens and has 45 settings, and the restaurant has 35 seats.