On the night trains: Secure your belongings on overnight trains because thieves might roam the cars while you sleep – do not leave them any chance.
Question:  
Which train station is more convenient when travelling to/from Prague?
Answer: Hlavni nadrazi, which is the main train station, and is conveniently located just 5 minutes from Wenceslas Square. However, it is a murky and slightly smelly station, with many unemployed and homeless individuals hanging around. So, unless necessary, we advise not staying at the station for too long. It will be sufficient if you arrive just 15 minutes before train departure times. There are several counters where you can buy tickets, so it is very unlikely that you will be queuing for long. (Hlanvni nadrazi has been recently renovated to a modern train station).
Nadrazi Holesovice is a bit further from the city centre but still conveniently located on the Metro Station – Line C. Holesovice station is smaller than the main station and definitely a more pleasant place to travel to and from.
Question:  
Can I pay for a train ticket using my credit card?
Answer: Yes, in most cases, you can. However, some tiny stations outside of Prague do not yet have the appropriate card terminals.
Question:  
I wish to buy a return ticket, are there any round trip discounts?
Answer: Yes, generally you will get around a 30% discount when buying a return ticket. There are also group discounts available, but these apply only to groups of six or more passengers.
Czech Railways also provides passengers with some group discounts for two people or more travelling together. The discount increases the greater the number of people travelling (up to a maximum of 30 people). You can also save money by using a so-called 'kilometre bank' (a book containing 2000 km of prepaid rail travel). Buying return tickets also brings a saving (valid until midnight the next day). When buying tickets, passengers must request the relevant discount.
Question:  
Where can I buy tickets online?
Answer: Several companies specialise in selling train tickets and rail passes, each focusing on a different market. Unfortunately, these websites: RailEurope.co.uk; www.raileurope.com; and InterRail.com; rarely offer good value. You can also buy tickets directly on the website of Czech Railways, which is generally the cheapest option (for some Pendolino fast trains use www.cd.cz). If you are buying tickets that offer a heavy discount, please bear in mind that most reduced e-tickets are non-refundable and non-changeable. In fact, most passengers arrive 30 minutes before train departure times and buy their tickets 'on the spot'.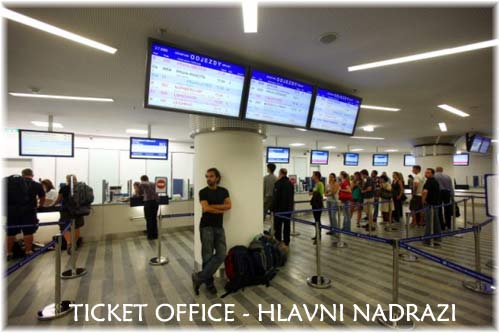 Main Train Station Art Nouveau style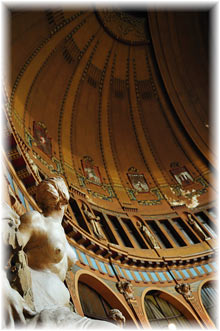 It's worth a visit to the top floor to look at the grimy, soot-blackened splendour of the original Art Nouveau building designed by Josef Fanta. The domed interior is decorated with two nubile ladies framing a mosaic with the words Praga: mater urbium, and the date 28 October 1918 (Czechoslovakia's Independence Day). There is also old Fantová Kavárna. This café is situated in the former ticket hall in the Art Nouveau section of the main train station — see the ceramic pillars in the former station restaurant. Open daily 6 am—11 pm.
Tip: Pre-book a reputable taxi from the train station to your hotel and avoid an unpleasant experience as many dishonest cabbies are located around train stations.