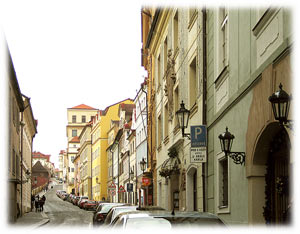 Úvoz is among Prague's most intriguing and oldest streets, and it connects Nerudova with Pohořelec. Should you head across this steep route, you will circumvent the tourist crowds, and you will be rewarded with a fantastic view over Petřín and the expansive Strahov Gardens. Wonderful historic houses line the other side. A large amount of house logos have also been conserved on the fronts of these houses. At Úvoz's top end, there is a building with a front side similar to that of a church, which the owners have turned into a guest house. But church-goers need not panic because this building never was actually a church. It used to be Saint Norbert's and Saint Elisabeth's hospital.
This street was not called Úvoz before 1870. Initially, it was named Strahovská Cesta (Strahov Way), and then afterwards Hluboká Cesta (the Deep Way). This latter name possibly comes nearest to reflecting the terrain's state at the time. An extremely deep ravine (which the Czech's call "úvoz") sliced into the side of the hill. Whenever rain fell heavily, faeces and sewage swept through the street, and this significantly blighted the lives of everyone that lived there. It was only in the seventeenth century that the street was lifted, and sewers were constructed underneath it.
Úvoz, with its' magical ambience, can be proud of its' history in having accommodated numerous prominent figures in Czech culture. Possibly the most fascinating Úvoz house is the dům U Slunce a Měsíce (The Sun and Moon House), or perhaps dům U Kamenného sloupu (The Stone Pillar House) – make your choice. The two allegorical Moon and Sun busts are positioned over the porch of the house and a pillar of "stone" climbs up to the second-floor level (really though, this is just a pillar made from plaster and strengthened with a beam of wood, but this is not important…). This pillar has the Virgin Mary's statue on top, which is made from wood.
The sisters Zdeňka and Marie Kalašová became owners of the house at the beginning of the twentieth century. These were two art-loving and educated women who had many visits from prominent literary figures, like Zeyer and Vrchlický. While residing in a house of such historical significance could be romantic, it also had its' downsides. The living quarters were dark, damp and were not able to be properly heated. Josef Sudek, the Czech photographer who was the final well-known tenant, knew about this all too well. A gallery on the bottom floor of the building is now dedicated to him.