V Zatisi Restaurant in Old Town is a relaxed, sophisticated venue, which was among the first restaurants to open in Prague following the Velvet Revolution. V Zatisi is located near Betlemska Square. Over the years, V Zatisi has won numerous awards, including "Best Restaurant in Central and Eastern Europe" by Gourmet 2001.
V Zatisi is a refined restaurant of contemporary décor, with just a hint of traditional Prague. The atmosphere is laid-back and informal, but at the same time, elegant and refined. The dining room interior is simple, with dark floral wallpaper and rich, chocolate-coloured wood floors and tables.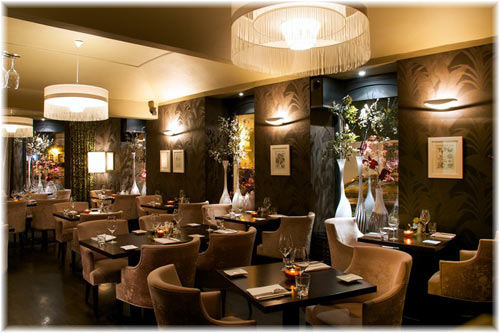 To starts, guests can sample unique appetizers, such as pumpkin and autumn pear soup. The entree menu consists of premier dishes, such as perch, bass, beef fillet, venison, and lamb. For dessert, guests can choose from delicious selections such as chocolate mousse. In addition to the regular dinner menu, V Zatisi offers dishes a la carte. For a truly invigorating dining experience, check out the "Bohemian" menu. In addition, new menus are being created frequently, so going out to dinner at the V Zatisi is never boring. There is always something new and interesting to choose from.
For drinks, the bar offers wines from all over the world, champagne, beer, cocktails, and other spirits. The wine list is first-class, and waiters expertly recommend wines with your dinner selections to enhance your pallet.
Although very attentive, the waiters are not pushy or overwhelming. The V Zatisi prides itself on very high standards of service and request customer feedback whenever possible. The kitchen is open during and lunch and dinner hours until 11:00 pm. The V Zatisi is open and appropriate for all manner of customers, including couples looking for a romantic, intimate date, business-related lunches and dinners, and dining for groups for friends or family.
Address: V Zatisi Restaurant, Old Town, Prague