The castle foundations date back to 1120 when it was one of the largest Benedictine monasteries in Central Europe. The original founder of this monastery was an abbot called "William", and it is from his name that the later castle and the village take its name of "Vilémov". The monks who lived in this monastery are known to have eaten their staple food source of fish and frogs.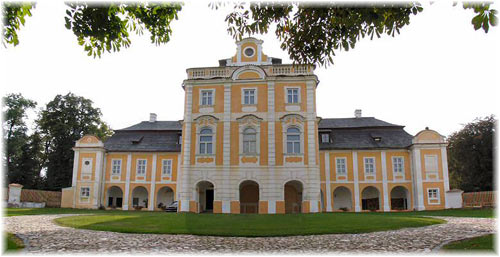 In 1421 the Hussites destroyed the monastery, leaving only the foundations. From these ruins, a fortress was constructed in the year 1578. Later the fortress was remodelled into a Renaissance castle.
In 1684, Vilémov was bought by Count Caretto de Millesimo, Marquis of Savona.
In 1746 the castle was enlarged, and the style was changed from Renaissance to Baroque. The Italian architect Francesco Caratti is known to have designed the building, and architectural details were added by artisans brought in from Italy.
In 1852 the Caretto de Millesimo family died out, and the castle and property passed to the nearest blood relative, Francis Vaclav Baron Reisky de Dubnic. The Barons Reisky have owned the castle ever since, but the castle was taken over by the Nazi's and the Reisky family expelled during the Second World War.
In 1945 Russian Army troops under General Malinowski were quartered in the castle, and later in that same year, it was returned to the Reisky family.
In 1948 the castle was confiscated by the communist regime and was put to a variety of uses, including an elementary school. All of the works of art and various other family keepsakes were removed or stolen during this period, and in 1991 when the castle was once again returned to the Reisky family, the buildings were empty and in complete disrepair.
Vilémov Castle has been restored during 1992 – 1997 by Professor Vladimír Reisky de Dubnic, who returned from America and restituted the family estate. Today, the castle is a seat of the family business company and a seat of the Foundation for International Studies founded by Professor Reisky de Dubnic. With all its lodging and boarding facilities, the castle and the adjacent park serve as an ideal location for conferences, seminars and other social events (concerts, weddings, celebrations etc.). (website)