Vinohrady is a beautiful residential area of Prague that carries a reputation of prestige and elegance. It covers portions of Prague 2, 3, and 10. Most of its grand Neo-Renaissance, Art Nouveau, Pseudo-Baroque and Neo-Gothic buildings come from the second half of the 19th century and the first half of the 20th century, and many have been and continue to be restored in an amazing array of colour and architectural detail.
Vinohrady is approximately defined by the Riegrovy sady park on the north, Havlíčkovy sady park on the south, Legerova street on the west, and Jiřího z Poděbrad square on the east, from there continuing east between Vinohradská and Ruská streets all the way to the Vinohrady Cemetery.
Vinohrady Theater
The dominant Vinohrady Art Nouveau theatre is home to one of the main drama scenes in Prague. Hundreds of popular actors, playwrights, and directors have graced the Vinohrady Theater with their presence and talent. (read more)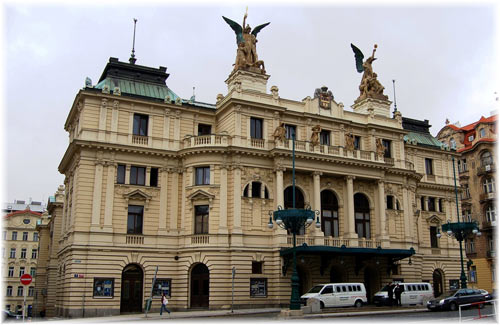 The History of Vinohrady
The name Vinohrady means "vineyards". The area was indeed covered with vineyards starting in the 14th century when the Czech king Charles IV had them planted there, right around the time when he had the New Town built. The vineyards lasted for some four hundred years and were later replaced by rose gardens, orchards, and residential buildings.
An independent community of Vinohrady was established in 1849, encompassing today's Vinohrady and Žižkov. The area was divided into Královské Vinohrady (Royal Vinohrady) and Žižkov in 1875. Královské Vinohrady received the status of a city in 1879. A tram line between Muzeum and Flora started running in 1897. Královské Vinohrady was incorporated into Greater Prague as a district in 1922, and its name was shortened to Vinohrady in 1968.
Vinohrady Parks
Several parks and gardens are located in the Vinohrady district and are ideal for a nice tranquil stroll. The largest ones are Riegrovy sady on the north and Havlíčkovy sady on the south.