Czech Hotels Also Offer Quality
Wellness stays are currently experiencing a great boom in Bohemia. Many people have begun to realise that a hurried lifestyle which taxes our health needs to be compensated for.   A specimen example of the wellness tourism boom is in the Giant Mountains (Krkonoše). In the last several years, the highest Czech mountains have not only become a much-frequented ski resort that is comparable in its standard with smaller alpine resorts but has increasingly become a destination for those who wish to enjoy a holiday where they can experience pleasant relaxation and the prevention of various illnesses, even out of the ski season.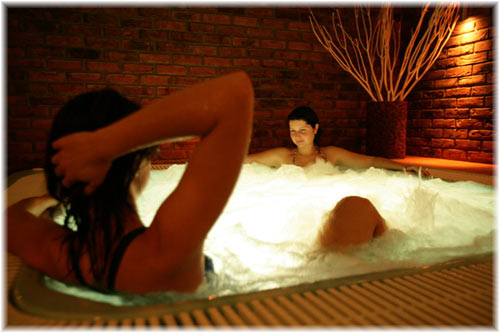 Wellness – Body and Mind Relaxation
There are several hotels in Špindlerův Mlýn and Harrachov that offer custom-made wellness programmes. These can form the main purpose and activity of a holiday, but single procedures for bad-weather days or a complement to an active holiday are also popular.   "Here you can take, for instance, an almost twenty-kilometre hike through Labský důl (Elbe Valley), around Labský vodopád (Elbe Waterfall) to the source of our longest river. You will get back to Špindlerův Mlýn by cableway from Medvědín," advises a masseuse from the wellness centre of one of the hotels, and adds with a laugh: "That you will be aching all over in the evening after having walked twenty kilometres is as sure as that Sněžka is the highest peak of Bohemia!"   And to be able to negotiate kilometres of tourist paths in the Giant Mountains National Park, or to go on a summer bobsleigh track without any problems in the following days, there is nothing simpler than to employ the services of a wellness centre in the evening and be pampered by a massage, a bubble bath or by a stay in a sauna for several dozen minutes. "You won't set the Thames on fire with an ordinary three-star hotel." Local hoteliers are well aware of this and invest no small amount of financial resources in the development of wellness centres.   They advise at the same time that a hotel offering a sauna, a swimming pool, and a whirlpool bath is not enough for a quality wellness experience. "The basis of a quality hotel is trained personnel who understand one hundred percent their professions," explains a manager. Only then can procedures be beneficial to a customer.   In Bohemia, the so-called spa triangle in the west of Bohemia traditionally stays at the head in popularity. Karlovy Vary, Františkovy Lázně and Mariánské Lázně – these are synonyms of the Czech balneology. The youngest of the spa triangle is Mariánské Lázně.   Today it is at the top in terms of curing illnesses of the digestive tract and the urinary tract, as well as movement. Reconstructed or completely newly built spa complexes do not suggest the "dark period" after World War II when the town was more or less falling into disrepair.   The colours of balneology in Moravia are held by Luhačovice. The largest Moravian spa has been made famous through the Vincentka spring, with its source in the colonnade right in the town centre. In particular, those who want to tackle diabetes or obesity come here for spa treatments, but people who want to enjoy a fine weekend without any stress and full of pampering are also welcome.