Our readers recommend this eXchange office in Prague. This exchange office does not charge any fees and exchange rate margin between buy and sell currency is really very small. Exchange office is very easy to find just 200 meters from metro station Malostranska, or if you are at Old Town Square just behind St. Nicholas church (on the corner of Kaprova and Maiselova streets). This exchange office has a minimum exchange amount of equivalent 5000 CZK (for example you must change at least 250 USD, 125 GBP etc.). eXchange accepts all major currencies including british pounds. You might find some other exchange offices offering slightly better rates but do not get confused, they will have very heavy fee charges. If wish to exchange money regularly, you can ask them for VIP card. This card will give you even better rate. For large amounts over 100.000 CZK eXchange offers a VIP rate, which is even better than their standard rate.
Address: eXchange currency exchange, Kaprova 15, Prague 1; Opening hours: daily 09am to 8pm.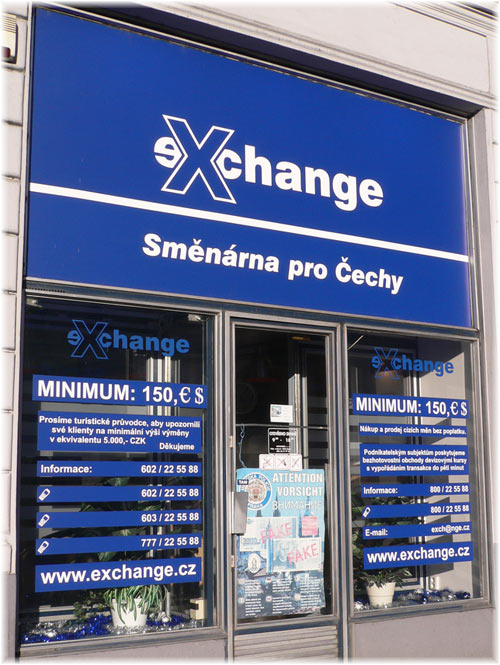 Be aware
Don't change money in the street! Swindlers will offer you a better rate, but you may end up either with forged banknotes or banknotes from another country.
Scottish and Northern Irish banknotes are very difficult to change, and where they are accepted you'll get a worse exchange rate than for Bank of England notes.