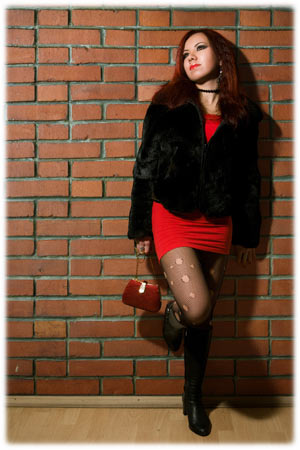 "I got used to luxury and cocaine," says Tereza, who is now 28 and has a well-paid husband and two beautiful, healthy children. Nobody would believe that she used to earn money as a hooker. "But now and then somebody appears who remembers my former life," says Tereza, who told us why she started doing sex for money.
"I have always enjoyed sex. I lost my virginity when I was 14, but I masturbated in the first grade already," started Tereza, showing she has certainly never been a puritan of any sort.
Since she was a child, she has also known paid sex and women who sell their bodies because she comes from West Bohemia, near the border with Germany, where there have always been many night clubs and street hookers.
She asked for 10,000, and she got them. "When I was 17, my friend offered me to go with her to Germany to the discos to do lesbian shows. It was just fun, but the men were crazy about it, and in only one hour, we earned the same money as for a week of a tough summer job." Tereza admits that although she was not yet an adult at that time, she had already come to understand that it is possible to combine the pleasant and the useful and that sex can earn you decent money.
But the first paid sex was just a coincidence. "I was in Pilsen at a disco, and a handsome young guy came to me and tried to chat me up. I liked him, and I wanted him, but I somehow enjoyed teasing him. He asked me what he had to give me to persuade me to go with him to his home. I said he had to give me 10,000 crowns. Well, he gave it to me. Then he wanted to come to my place and become my boyfriend. I liked him, yet I acted like a mean bitch, and I told him that the price remains the same. He gave me ten thousand one more time, but he did not come any more," laughs Tereza.
They Paid for Sex with Cocaine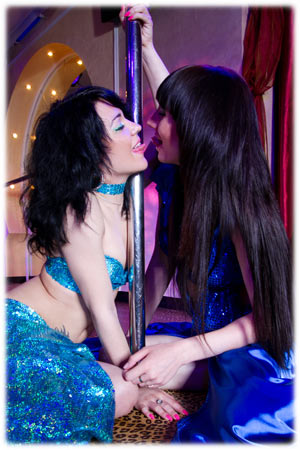 Another man who Tereza used came from France. "Since I was a child, my mum kept telling me that a woman must know how to use a man and then kick him out. First, I did not understand, but later I started following her advice. Once a friend of mine introduced me to a Frenchman somewhere from Morocco. He had lots of cocaine and lust for sex while I was hungry for the cocaine. For three months, we exchanged our services, but then we started arguing because he was trying to reduce my dosage, but he wanted to keep our sex games."
The true change came only in Prague when Tereza started studying at the university. She needed money again, and it was clear that she does not want to do real work. "First, I did live chat. But the guys always just chatted, and when they were supposed to get to the paid zone, they got away – no money for me. So my friend told me I could go with her to shoot a porn film for an Italian company. She took me to the filming, but when I saw the terribly tough fuck the girls were getting, I was sick of it."
The wild years in Prague spiralled more and more. "I fell in love with the owner of a restaurant. He was an older man who kept giving parties in masks for his friends. Usually, there were four girls and four men. I always got fine money for that, jewellery, cocaine and on top things like ecstasy pills."
It Is Easy to Get Used to Luxury
Tereza admits she got used to the glittering life of luxury. "I travelled by taxi only, and suddenly crowds in trams made me sick. I sniffed expensive cocaine, I ate snails and earthnuts, and I tortured my boyfriend by strolls through Pařížská Street. My self-confidence was encouraged by the fact that suddenly I was sitting at the same table with VIPs and top models."
But the drugs slowly started getting out of her control. She had too many of them, and she did not have to worry about their price. "I was drugged every day. I started having hallucinations; I had a feeling somebody was in my flat and thought I was talking to people who, in fact, were on the other side of the republic… I also got an abortion, but I did not care. I didn't feel it had anything to do with me."
And Suddenly Nobody Wanted Me
Tereza started to take crystal meth, and she stopped being attractive. There were younger girls, full of energy, who enjoyed going from party to party. And above all, they were not drugged all day.
"Suddenly, I was fed up with everything. Men, drugs, Prague… I needed to get out. I went to visit my mum, and I told her everything. But she had guessed it already anyway. She let me live with her. My priority was not to take drugs any more. I had a strong will, and I banned myself from Prague and drugs."
A Business of a Lifetime
She found a boyfriend, started painting pictures, found a new balance, and started thinking of finishing her university. "One day I got an e-mail from my old friends, inviting me to go to Indonesia for three weeks with a German guy. It was an amazing holiday on a yacht. He wanted sex only twice, he paid for everything, and he wanted most to talk. And when I went home, he gave me 50,000." It was Tereza's last business. An exotic holiday, from which she brought lots of money. It was a bargain. "It cost me a relationship because I told my boyfriend the truth. Of course, he could not handle it. I came to understand that I have to choose. Either I will have somebody who will love me. Or I will be a top-class hooker. There is no middle way, no compromise."
Now Tereza has been married for three years and has two children. Her husband is a successful businessman, and he can feed the family from his sole salary. Tereza is on maternity leave, and the old days are a very distant memory now. "In the last three years, I have had cocaine only once, and no crystal meth at all. After giving birth to my children, I do not have a taste for drugs or sex with anybody else than my husband." Her husband does not know about her past. "I will certainly not tell him. Sometimes I suspect that he even thinks his wife is a boring couch potato, but if he knew the truth, I think he would not handle it. Maybe somebody else will tell him someday. I never know when somebody from my past will emerge."