The town of Třeboň was founded in the middle of the 12th century and lay in the middle of a landscape conservation area and a UNESCO Biosphere Reserve. Attractive Renaissance Třeboň cháteau, surrounded by a magnificent park and fortified wall, is one of the biggest complexes in the Czech Republic is open to the public and was built in 1562 by the Rožmberk family. The main square with Renaissance and baroque gables provide a natural centre for the town conservation area. In 1960, Třeboň gained the status of a spa town. In 1977, the town became the centre of the UNESCO Biosphere Reserve declared here. Two years later, the area was declared a landscape conservation area. Except that town attracts spa lovers, the town is also well known for the quality of its carp ponds, which date back to the 14th century. Carp Rožmberk is on the menu of several restaurants even today. Třeboň has its own brewery, which produces quite good beer called Regent for local hotels and restaurants.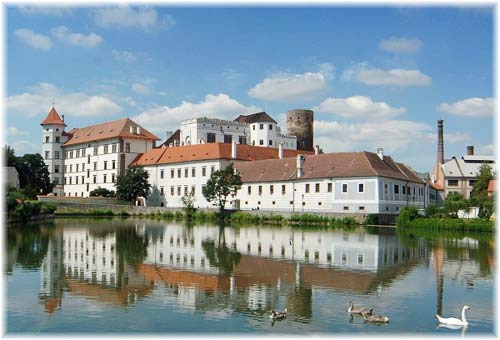 Townhall tower – 31 metres high with four storeys and gallery, town clock and onion-shaped roof. It dates back to 1638.
Třeboň Square with Marian Column erected in 1780, the work of sculptor Leopold Huber.  
Třeboň Castle – built in 1562 by the Rožmberk family originally in Gothic style but rebuilt in the style of a Renaissance chateau.
Church of Our Lady the Queen and St. Giles – built in the Gothic style (including the beautiful statue of the Madonna) not far from the main square.
The Schwarzenberg tomb – built in the 19'h century in neo-Gothic style, in the park to the southeast of the lake Svět. 

Spa – Berta and Aurora treatment centres – the spa uses original natural resources to treat muscle and joint disorders.
J.K. Tyl Theatre – built in 1832 through adaptation of a former malthouse of the town brewery.  
Town archives – housed in Třeboň Castle. The beginning of the great tradition of keeping archives goes back to 1602. Credit for building the archives goes to historian and archivist Václav Nezan.  
World Lake – artificial lake for breeding fish, built in the second half of the 16′ century by Jakub Krčín of Jelčany. 
Tourist Information Centre
Masarykovo náměstí 103 379 01 Třeboň, Tel.: +420/384 721 169
Château: May—Sep Tue—Sun 9—noon, 1-5