In the space of an hour, on 8 November 1620, the Catholic Habsburg army routed the Czech Protestants on this hillock outside Prague, deciding the fate of Bohemia for the next 300 years.
The 381m-high White Mountain, or rather a hillock, is situated on the western outskirts of Prague. Today the only reminder of the battle is a small memorial cairn located on a mound in the middle of a field and the Church of Our Lady of Victories (1704-14).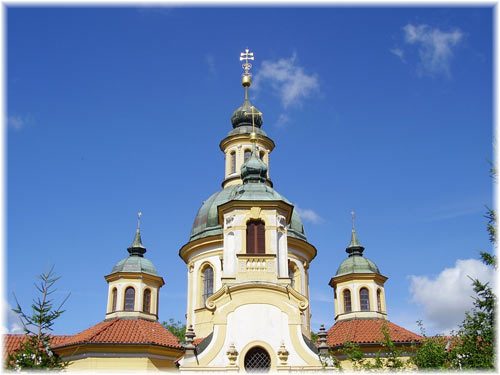 In the nearby park, another site worth a visit is the Renaissance hunting-lodge Star Castle, built between 1555 and 1557 by Ferdinand of Tyrol. The castle now contains exhibitions devoted to the work of the writer Alois Jirásek and the painter Mikoláš Aleš.
White Mountain Battle
What seems to be the most important battle in Czech history was actually a small fray that only lasted two hours. In November of 1620, the chances of winning the war were even for Catholics and Protestants. From the very beginning, the battle at Prague's White Mountain was perceived as crucial. The Catholic army was supported by the Pope, the Polish kings and the Spanish Habsburgs.
28,000 soldiers under the command of army leader Buqouy were marching towards the White Mountain in Prague, where the Protestant army of 20,000 was waiting. The Protestants, unfortunately, didn't know how to use the hilly terrain to their advantage and were crushed by a mere investigation troop of 2000 sent by the Habsburgs. So how did this completely uninteresting battle become a legendary event? What was more important than the military aspect of the clash was its effect on Czech culture, society, and politics. The new king, Ferdinand II, punished the Protestant leaders and took it upon himself to bring his country back to Catholicism. In 1627 he cancelled religious tolerance and ordered that children be taught in Catholic schools only. German was put on the same level as the Czech language, and traces of Czech culture could only be found in provincial areas. The dark era began, and over thirty thousand people, mostly the intellectual elite, left the country and never returned.