Press
There is a weekly local English newspaper called The Prague Post (cost 65 CZK) – (www.PraguePost.com). It concentrated mainly on business and politics and was originally created for the English 'ex- pat' community living in Prague. It is beneficial for travellers as it contains a lot of suggestions about where to go, what to see in Prague and a Night&Day entertainment section. The most popular Czech newspapers are Mlada Fronta DNES, Pravo, Lidove Noviny and tabloid Blesk. Hospodarske Novinky is our newspaper about business, equivalent to the Financial Times. If you are a sports fan, then look for the aptly named 'Sport'. Kiosks, newsagents and some bookshops in the city centre sell a wide range of international newspapers (around 100 CZK) and magazines. The quality of journalism in the Czech Republic is not very high; Czech people prefer articles about gossip, affairs and scandal. You can get most foreign newspapers and magazines at the kiosks at the bottom of Wenceslas Square.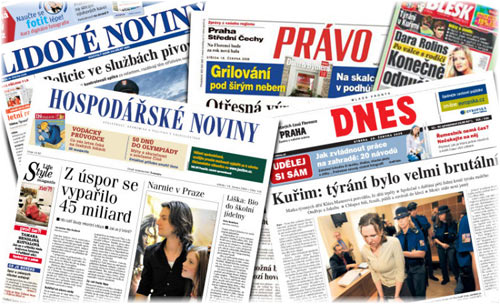 TV and Radio
If you want to watch the news in English, there is only a 45 minutes bulletin called Euronews on CT2 (from noon Monday to Thursday and 7.15 pm Friday to Sunday). CT2 is a state-owned TV channel and shows some movies with English subtitles. Other private TV channels cater mostly for the Czech speaking audience (CT, Nova and Prima). On the radio CR1, there's English news at 5.30 pm. Or you can listen to the BBC on 101.1 FM. Most hotels have cable or satellite TV in each room, with some English-speaking news channels. Although there may be English-speaking programmes on other foreign-service TV stations, foreign broadcasts on Czech TV are dubbed rather than subtitled. Cable and satellite TV is also prevalent throughout Prague; many apartment buildings and homes have cable connections, with access to a broad range of European and American TV channels.
The recently resurrected Czech Business Weekly is where you can glean the health of the area's economy and the trends. www.Prague.tv is an expatriate Bible, listing the most current and sometimes the quirkiest goings-on in the city. The site also has a bulletin board, so if you are looking for anything in particular (flats, Czech lessons, a date).