Rock for People has become one of the biggest and most popular outdoor music festivals in the Czech Republic. Since 1995 the festival has been held annually in different cities around the Czech Republic. In 2008 it was moved to the former military airport of Hradec Králové and since that time has welcomed many Czech and world rock stars. Artists worldwide meet on three or four stages over three days of great fun and festival atmosphere. In 2007 top star bands like The Killers and The Hives were playing, and in 2008, The Offspring, Kaiser Chiefs and Flogging Molly.
Substantial numbers of tickets are often sold even before the festival programme is published! Rock for People has been recognised annually in various magazines and readers´ polls as the best event of the year, receiving in 1998 certification from the Czech Republic Ministry of Culture and in 2000 the Czech Grammy Award for Best Event of the Year.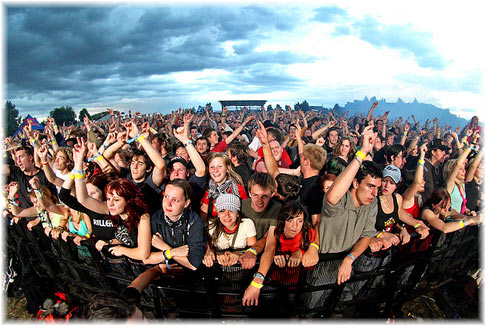 The guests can enjoy movies, an internet café, adrenaline sports, and many more attractions. All this in three days, on two large stages and three smaller "club" stages. The festival capacity is more than 30,000 people, and national TV and radio are always present to cover this exciting event.
It is possible to park your car or caravan or bring your tent and camp in the large festival campground for free and enjoy the continuing festivities even after the bands have stopped for the day. Of course, other accommodation is available in boarding houses and hotels in the city of Hradec Kralove.
If you are asking why it is called "Rock for People", there is an answer. Having been run on a non-profit basis for ten years, the festival has donated more than 500,000 CZK to various non-profit organisations. This year Rock for People will continue this tradition with donations, charity tie-ins, public awareness and information stands and tents. It is truly Rock for People!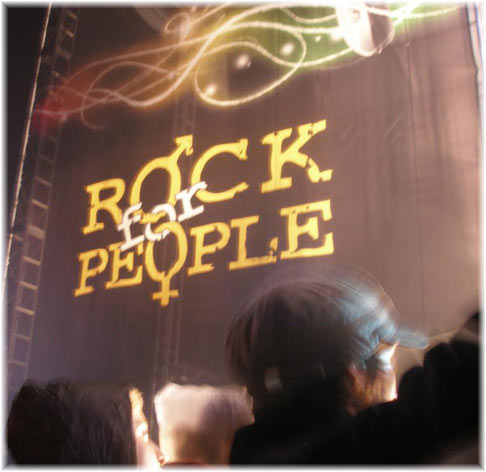 When: the festival is held in the summer months, usually during July. As dates vary each year, please check this.
Location: at the Festival Park near the city of Hradec Kralove (former military airfield). Hradec Kralove is situated about 100km east of the capital Prague.