This unique church is popular with tourists, not just because of its architectonic curiosities, but mainly because it is where the public maternity clinic was opened in 1789. The church is also located close to the University campus at Albertov of Prague.
The church stretches across Prague´s Hill Větrov in the New Town. The one-aisle Gothic basilica dates back to the second half of the 14th century. It was founded by the important Bohemian monarch, Charles IV, in 1376. The church used to be a collegiate canonry once, which was transferred to Prague from Sadská. There used to be a school next to the church, too, where the Bohemian King Wenceslas IV spent the last day before his death in 1419. The St. Apollinaire Church was modified in the Baroque style in the 17th and again in the 18th century; however, shortly afterwards, it was rebuilt in the Gothic style by the architect Mocker.
Inside the church, you have the opportunity to see the gorgeous well-preserved Gothic wall paintings. These fresco paintings date back to the period around 1390. However, a great part of the interior church facilities is not original. They were moved from the Church of the Virgin Mary and St Charles the Great at Karlov because the church was closed due to the Josephine reforms.
There is a forty-two-metre high church tower standing in the southwestern part of the church. There is a bell called "Apollinaire" hanging in the bell tower. It weighed nearly two hundred kilos and was made in 1867 in the workshop of Jan Jiří Kühner of the Lesser Town.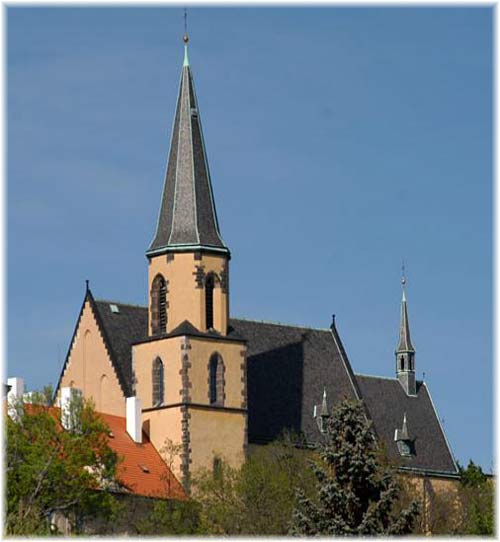 Location: Apolinarska, Albertov; In Czech: Kostel Sv. Apolináře