Let Yourself Be Enchanted by the Atmosphere of the Most Beautiful Advent Markets in the Czech Republic
Today most of us associate the time of Advent with bright streets, festive decorations, and the joyful experience of the hustle and bustle of Christmas markets. If you're also going to enjoy that magical atmosphere of Advent markets this year, we will advise you on where to go for the best punch, a rich cultural programme, or the Christ Child's postal service.
The most magical places that you can visit during Advent certainly include Prague. According to CNN, the Czech capital city belongs among the top ten cities worth visiting in the winter. Prague is ranked in the first place by an American server. You can find several Christmas markets in Prague; the most famous one is of course that in Staroměstské náměstí (Old Town Square), which you can visit until 6 January. Some of the greatest gourmet experiences are hot chocolate that is so thick that in cold weather, it solidifies in your cup after a few minutes, Old Czech trdelník (a special pastry), chocolate-dipped fruit, baked fruit tea, and other sweets. The stands are open every day from 10 to 22 hours. Other markets can also be found in Václavské náměstí (Wenceslas Square), Náměstí Republiky (Republic Square) or Náměstí míru (Peace Square).
In Advent, Český Krumlov is covered with a beautiful Christmas veil and always draws its visitors into a mysterious atmosphere. The rich programme, drawing from traditional Czech folk customs and traditions, is supplemented with various concerts and fairy tales for children. Of course, traditional Old Czech Christmas markets with punch, mulled wine and Christmas cookies, filling the entire city with their smell every day, are not missing there. You can go there until 6 January. The Christ Child's post office will arrive in Český Krumlov on the second Sunday of Advent (08/12), the third Sunday (15/12) will be marked by singing carols around the Christmas tree, and the fourth Sunday (22/12) will be marked by musical gifts that are given by Krumlov musicians, who will traditionally sing "Silent Night" with citizens of all nationalities. Christmas Eve can start with a traditional meeting in the first courtyard of the Krumlov castle on the occasion of Bear Christmas – not only for families with young children.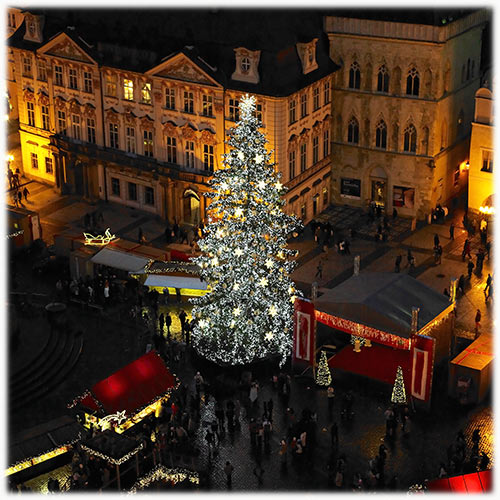 Traditional Christmas markets in the historical centre of Olomouc offer a valuable programme with popular bands of all genres, a theatre for both children and adults, Advent traditions, period attractions, a carved nativity scene, and more than eighty stands with high-quality goods and renowned Nuremberg punch. Christmas markets in Olomouc are the only ones in the Czech Republic that offer just this punch. Over 10 types of wine and punch are available there, and all products are also sold in litre gift packing. Moreover, you can also skate on the open ice-skating rink there. The Advent markets in Olomouc take place until 23 December.
It is not only Brno residents who have fallen in love with the traditional Brno Christmas. You can feel the festive atmosphere there almost at every step. The Christmas markets in Náměstí Svobody (Freedom Square), Zelný trh (Green Market) and Moravské náměstí (Moravian Square) begin as early as 29 November. Pony rides, a merry-go-round, or the possibility of sending a Christmas card to a Christmas Child will be prepared for children. Adults will appreciate a variety of refreshment – grog, punch, trdelník (a special Old Czech pastry), real homemade potato pancakes, pancakes, and both hot and cold country feasts. A rich cultural programme is traditionally prepared in Náměstí Svobody (Freedom Square) every day until 29 December. Christmas glass marbles will fall out of the clockwork every day and every hour from 11 to 23 hours throughout Advent. A nativity scene will also not be missing.