Like all big European cities, Prague has quite heavy traffic. Drivers in the Czech Republic are some of the worst in Europe. If you can, avoid driving here, especially in the city centre where narrow and winding streets get permanently jammed. If you are thinking of driving or taking a taxi to the city centre during peak hours, from around 16.00 onwards consider using the metro (a much faster option). Also, Friday and Sunday afternoons are not recommended for driving in the city as many people will be leaving or returning from their weekend houses and weekend city escapes. The city centre has quite a lot of pedestrian-only streets, where you cannot drive. 
In the Czech Republic, we drive on the right. Also, don't forget that to drive a car in the Czech Republic, you must be at least 18. Seat belts must be worn in front seats, and rear seats were fitted. Under 12s may not travel in the front seat. Most foreign driving licences are accepted; Australian and New Zealand drivers should obtain an International Driving Licence.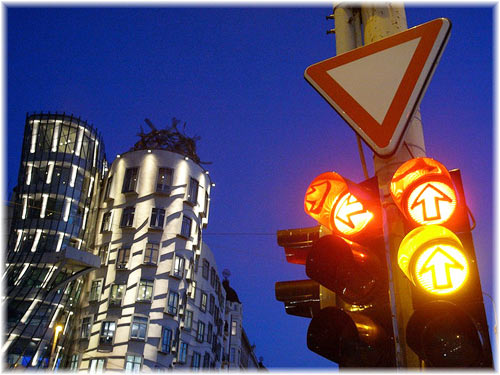 If entering the Czech Republic by car, you will need the following: a valid driving licence, vehicle registration card, hire certification (if the car is not yours, then a signed agreement by the owner that you're allowed to drive the car is recommended), Green Card (an international motoring certificate for insurance) and a highway sticker (can be purchased at post offices). 
If driving in the Czech Republic, you must carry a first aid kit, a set of replacement bulbs, spare tyres, and red warning triangles. Safety belts must be worn both in and outside towns and villages. Speed limits are 130 kph on motorways, 90 kph on other roads and 50 kph in built-up areas (towns and villages). Drive carefully. There are no four-way stop intersections as in the USA. When turning at junctions, also be careful because, as you get a green light, pedestrians will also get a green man. This sometimes results in drivers colliding. In the Czech Republic, you have to give way to pedestrians crossing at a marked crossing place. If you want to use the motorways outside Prague, you will need to pay a special tax. If you pay this, you will receive a sticker for the car (can be bought at post offices; 15 days' tax costs 200 CZK or 1 year 900 CZK). In the winter, motor vehicles must have their lights on all day. 
Speed limits
The speed limit on motorways (annual toll payable):
130kph (80mph) Minimum limit: 50kph (31 mph)
The speed limit on country roads:
90kph (56mph) (on level crossings: 30kph/18mph)
The speed limit on urban roads:
50kph (31 mph)  
Petrol types and prices

Petrol (benzín) is sold in leaded form as special (91 octanes) and super (96 octanes). Unleaded petrol comes as natural (95 octanes) and super plus (98 octanes). Diesel (Nafta) is also available. It is difficult to find petrol stations in the city centre, and they are far apart, but some are open 24 hours.
Prices of petrol are very similar compared to some other EU countries (slightly cheaper than UK prices). You can expect to pay between 27 CZK and 33 CZK for a litre of unleaded or leaded fuel.
LPG
There are over 750 LPG stations in the Czech Republic. And there are never problems with valves: at Czech stations, they have all different valves and attachments. As is the case elsewhere in Europe, the staff at the station fill the gas tanks themselves. The price you will pay for LPG in the Czech Republic is around the average for Europe. A litre of gas costs around 15 CZK.

If you break down, here are some emergency breakdown and road assistance companies.

ABA (Autoklub Bohemia Assistance). Tel: 1240.
Ustredni automotoklub. Tel: 1230.
Servis 24. Tel: 261 104 477 (for buses, coaches, lorries and trucks).

Skoda Assistance. Tel: 261 104 666. 
Highway tolls

There are no road tolls in the Czech Republic. To use the country's network of highways, drivers must purchase a special sticker with the highway symbol and place it in an inside corner of the windshield. These stickers are available for ten consecutive days, one month, or one year and are available at gas stations, post offices, and border crossings.

Update: Last year, a new 'points' law came into force to make Czech roads safer, although it's on a collision course with the public, political opinion! So from the day when the new points system was established, drivers have become more careful as they can easily forfeit their driving licence.
Always remember. Don't drink and drive. You are required to have a zero blood alcohol level when driving. Breath testing is quite rare but still be careful when driving late at night or early on Friday and Saturday mornings. If you are caught you pay a hefty fine of around 5,000 CZK to 10 000 CZK or you can be arrested and taken to court.