If you take a look at the central hall, you will see a fascinating contrast caused by the difference between the appearance of the facade and the vast space of the monumental hall, surrounded up to the ceiling by three storeys of side galleries.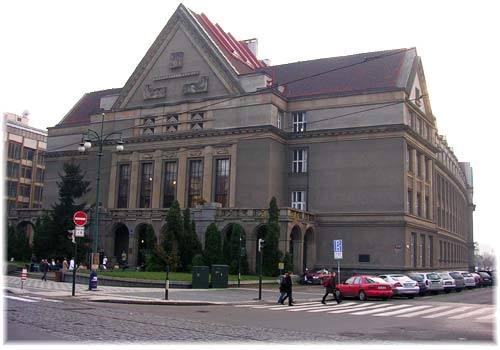 Charles University´s Faculty of Law became associated with this remarkable building after it definitely left the historical building of the Karolinum in the early 1930s, where it had resided since its foundation.
The architect Jan Kotěra was chosen for the job in 1907. In the presence of many noted guests Professor Jaroslav Heyrovský, the Don of the Charles University and later the holder of the Nobel Prize in the field of polarography, ceremonially laid the first stone in 1908. The day after, the foundation stone of a new building of the German University was laid, whose architectonic shape was to be in absolute contrast to Kotěra´s construction.
The subsequent financial and material troubles, and especially the events of WW1, stopped the construction work on both universities. After the formation of the Czechoslovak Republic in 1918, the completely different political and economical situation prevented the works from continuing according to the original intentions. There were even more complications, the most serious of which was the death of the architect in 1923.
There were dramatic events in the premises of the Faculty of Law after Jan Opletal´s funeral in November 1939, such as the flight about university Insignia and the consequent arrest of the students by the Gestapo. The shady and tragic points of its history are related mainly to the military occupation of the building by the SS troops who used it to control a wide area of its surroundings during the May Uprising of the Prague People in 1945.
Nowdays, the building of the Faculty of Law is a protected cultural monument. Some all-university institutions are still in service in the basement, but apart from that the building serves rather for the education and training of the law students. All construction modifications that were performed in the building after the November 1989 Velvet Revolution are intended to modernise and improve the education process, without affecting the protected historical centre. At present, the university has about 3400 students.
Location: Náměstí Curieových