Prague's cafés are legendary for their associations with great personalities like Einstein, writer Franz Kafka, and even revolutionaries like Vaclav Havel. Here we list some of Prague's most famous, where you can relax, try local desserts, and watch the day roll by. Most cafés serve tea, cakes, snacks, alcohol and light meals.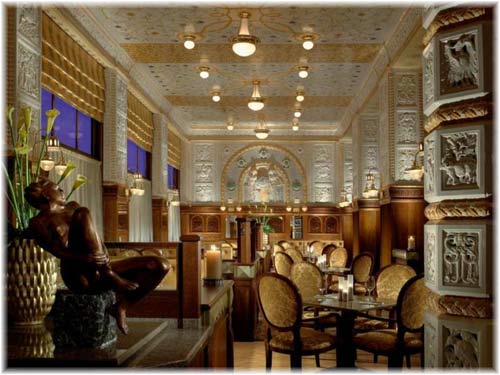 Cafe Imperial

This endearingly shabby yet grand Habsburg era café has retained its original, over-the-top 20th-century cream-and-mustard ceramic tiled decor and colourful mosaic ceiling. The locals clearly approve of its unpretentious air, too, and the free doughnuts go down a treat. There is live jazz on Friday and Saturdays evenings. Meals cost from 120 CZK to 250 CZK. www.cafeimperial.cz
Location: Na poříčí 15, New Town, website
Open: daily 9am-11pm
Price range: cheap to moderate. 
Cafe Slavia
This is the most famous Cafe in Prague: a cherry-wood and onyx shrine to Art Deco elegance, with polished limestone-topped tables and big windows overlooking the river and National Theatre just across the street. Indulge in your cup of coffee while watching the city pass by. It is a Czech version of Viennese coffee culture; that is to say, intellectuals gather here to read newspapers, discuss politics, plot artistic activities and drink coffee for hours. Many Czech writers, dissidents and artists visit here. The café has been open since the 1920s but has been carelessly modernised since then. The menu offers some great cream cakes, fresh salads, pasta and vegetarian dishes. It is open daily from 8 am until midnight. Meals cost from 100 CZK to 250 CZK. www.cafeslavia.cz
Location: corner of Smetanovo nábřeží and Národní, Old Town, website
Open: daily 8 am -midnight
Price range: cheap to moderate.
Cafe Milena
Opened and driven by the society of Franz Kafka's friends, this café is named after a friend of Franz Kafka, the translator Milena Jesenka. Milena was one of the lovers Franz Kafka never had the courage to propose to. You can read the daily papers and choose from a variety of light dishes and desserts. The prices for coffee and alcoholic beverages are fair considering the location (stunning view of the Astronomical Clock on Old Town Square).
Location: Old Town Sq. 22, Old Town. 
Price range: moderate to expensive
Café Louvre

This historic French-style café is a place for a great coffee with an even greater feel for the real Czech atmosphere. There is an upstairs restaurant with views of Art Nouveau architecture. www.cafelouvre.cz
Location: Národní třída 20, Old Town, website
Open: Mon-Fri 8am-11.30pm, Sat and Sun 9am-11.30pm
Price range: moderate
Grand Café Orient

This imposing Grand Café is located at The House of the Black Madonna and has a unique cubist interior restored in the 1980s. We recommend getting a seat on the balcony from where you can see beautiful Celetná Street. www.grandcafeorient.cz
Location: Ovocný trh 19, Old Town
Open: 9am-10pm
Price range: moderate.
Municipal House Coffee

Come for the atmosphere as well as the treats. This Art Nouveau café on the ground floor of Municipal House is one of the most elegant in town. website
Location: Kavárna Obecní Dům, Náměstí Republiky 5, Municipal House, website
Open: 7.30am-11pm
Price range: moderate.
Smoking: Prague's cafés providing non-smoking sections, or going entirely smoke-free.
Café Montmartre
Founded in 1911, the café Montmartre in Prague, better known among locals by the name "cabaret Montmartre", still welcomes guests day and night in a building called U třech divých (House at the Three Savages). Once frequented frequently visited Czech and German writers like Max Brod, Franz Kafka and Jaroslav Hašek, today it is a splendidly restored central hideaway barely noticed by tourists.
Location: Řetězová 7, Prague 1 
Price range: moderate.
Café Savoy

Spacious and unhurried, this elegant café at the edge of Mala Strana is rarely troubled by tourist overload and makes a good refuge from the hustle and bustle of the town centre. A small fountain at the entrance adds a touch of class, and the lofty, extravagantly decorated 19th-century ceiling adds real character to this century-old room. The usual coffees and sweets (including a superb apple strudel) are complemented by a small drinks list and a few offerings for those wanting a salad or a full meal.
Location: Vítězná 124/5, Lesser Town, website 
Price range: moderate.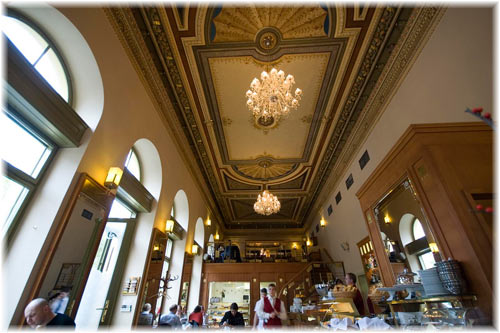 Did you know? The Czech traditional coffee is Turek. This Turkish coffee is served in small cups with a thick layer of coffee grounds on the bottom.