There are a few things to consider before booking your serviced apartment in Prague:
Are there any stairs to climb? Many historic houses in the centre of Prague have no elevators.
Are the beds "European-style" (two beds pushed together) or "matrimonial" (one large bed)?
Are there any clubs or restaurants in the building? Sometimes the noise can be bothersome.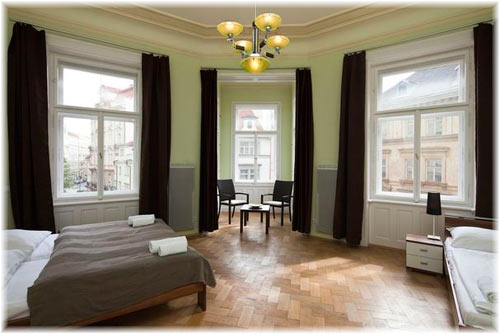 Holiday Apartments/Residences
Renting a short-term apartment is a good option for those staying in Prague for longer, usually at least a week or two – though it is possible to rent a flat for a one-day stay. Apartments are typically more spacious than hotels and also cheaper or comparable to three-star hotels. Usually, there won't be a daily linen service or a maid, but there should be a fully equipped kitchen or kitchenette. Most of the apartments provide clean towels and high-speed Wi-Fi internet access. Apartments are available everywhere in Prague, and when searching listings, take note that "3+1" means an apartment with three major rooms (usually two bedrooms and a living room) plus a kitchen. "2+kk" indicates a two-room apartment with a kitchenette. "1+kk" is a studio apartment. Rent can range from 900 CZK to 3,000 CZK per night.