Mighty Sounds Festival is the biggest Ska Punk Festival in Europe.
The idea of organising the Mighty Sounds festival was to create a summer party, which would connect music styles like ska, punk, rock´n´roll, hardcore, reggae, indie or more independent forms of electronic music, e.g. breakbeat, jungle or even more alternative streams of hip hop. Mighty Sounds is not among the events which serve you the traditional fish and chips spiced up by some big foreign name. It tries to be a festival where high-quality foreign performers are given space, and Czech bands must try hard to keep their place in the sun. There are around 100 bands from many countries around the world (and in 2009, around 150 bands are expected). Genres like ska, punk, reggae, dancehall, rock'n'roll and hardcore are catered for, but the organisers do not hesitate to come to good quality hip hop or indie guitar music.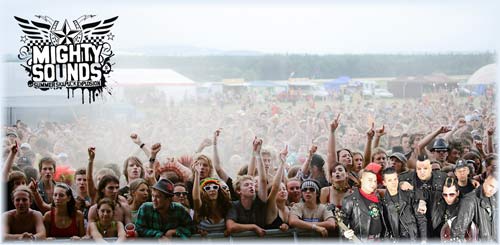 More than 10,000 visitors came to Mighty Sounds in 2007, 2008, and  2009. Many artists from over 30 countries have performed at Mighty Sounds during the four years of its existence (in 2009, it is the 5th jubilee year). For example, Derrick Morgan (Jam), New York Ska-Jazz Ensemble (USA), Desorden Publico (VEN), Karamelo Santo (ARG), Persiana Jones (IT), Mad Sin (D), The Peacocks (CH), Elvis Jackson (Slo), Hotknives (UK), Mark Foggo's Skaters (NL/UK), Panteon Rococo (Mex), Skalariak (Basq), The Slackers (USA), Jesse James (UK) and many more.
Visitors to the festival can set up tents at the campsite for free or use the services of surrounding hotels and boarding houses. Cars can be parked for all three days at a paid car park for around 100 CZK (but check this as it might vary each year).
Like other open summer festivals, many mobile restaurants have a wide choice from classical meats to vegetarian at affordable prices. Drinks are available, and excellent Czech beer can be had for just 30 CZK for a half litre.
Location: Airpot Čápův dvůr. Čápův dvůr is a small village (or Tabor Suburb) about 5km from the South Bohemian town of Tabor, around 100km south of the capital city Prague. The easiest way is to go by train to station Tábor – Čápův Dvůr, it´s only 500 m from the venue.
When: annually in mid-July
Ticket prices: around 890 CZK (check as it might vary, and if booking in advance, you might get a discount)
Website: www.mightysounds.cz