Alcron

Intimate and luxurious space featuring chef Jiří Štift's brilliant seafood. Offerings depend on his fresh ingredients and bursts of creativity but may include langoustine carpaccio with foie gras or lobster bisque with crayfish oil. Select special three- or four-course menus if you wish. A memorable and recommended experience.
Address: Stěpánská 40, Prague 1 – New Town (inside the Radisson SAS hotel), website
Tel.: 222 820 038
Open Mon.–Sat. 5:30 p.m.-11 P.M.
Rated: Expensive 
Aquarius

The Victorian living room décor may throw you off. Aquarius, though, is anything but staid.
Sometimes striking, often over-the-top presentation sets this restaurant apart. Food sometimes fails to measure up. But even at its least impressive, the stuff is still quite good. Servers — hold on to your seats — put the customer first. Great interior courtyard, too.
Address: Tržiště 19, Prague 1–Malá Strang (inside the Alchymist Hotel), website
Tel.: 257 286 019
Open daily noon-3 p.m., 7 p.m.-11 p.m.
Rated: Expensive 
Kampa Park
One of the "must visit" places for those interested in a tour of culinary sites in Prague. The flagship of the Kampa Group, which includes several top restaurants, this impressive restaurant likes to show off its glorious past, including visits by famous types. Bask in that or concentrate on the menu (some fine seafood) or the riverside location.
Address: Na Kampě 8, Prague 1–Malá Strana, website
Tel.: 257 532 685
Open daily 11:30 a.m.-11 p.m.
Rated: Expensive
La Veranda
Chef Radek David is a former Chef of the Year (2002) and enjoys adding original touches to established recipes. Smoked salmon, for example, may arrive with a vegetable tartare and truffle crème Fraiche. Undaunted diners may opt for the Sexy Menu, mean¬ing five courses selected by the chef. Well worth a look.
Address: Elišky Krásnohorské 2, Prague 1–Josefov, website
Tel.: 224 814 733
Open Mon.–Sat. noon–midnight, Sun. noon-10 p.m.
Rated: Expensive
Mlýnec
Who knew one of Prague's rare top-notch spots sits almost under the biggest tourist attraction? In a spacious room generally devoid of charm, Mlynec's food service provides distraction enough: a creative fusion of world flavours as well as beautifully prepared Czech fare. The kitchen balances flavours and textures in such a way as to make the experience memorable.
Address: Novotného lávka 9, Prague 1–Old Town, website
Tel.: 221 082 208
Open daily noon-3 p.m., 5:30 p.m.-11 P.M.
Rated: Expensive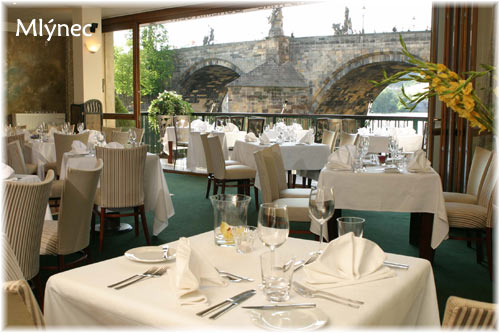 Purple Basil
Marriott Courtyard hotels are not typically known for hosting this type of restaurant. Despite nods to the mindless dining of weary corporate travellers, Purple Basil features some outstanding appetizers and entrees with a Mediterranean influence. Yes, there are afterthought dishes. And it serves up the usual buffet-style breakfast for hotel guests when the kitchen flexes its muscle, though —wow. Well-stocked bar, too.
Address: Lucemburská 46, Prague 3–Žižkov (inside the Marriott Courtyard), website
Open Mon.–Fri. 11:30 a.m.-10 p.m., Sat.–Sun. 11 a.m.-10 p.m.
Rated: Moderate to Expensive
Restaurant Ungelt (Rybí trh)
In a city where restaurants come and go, this 'Fish Market' is an old haunt. The wide-ranging seafood menu includes freshwater fish, sea fish, shellfish, sushi, bouillabaisse, Canadian lobster, or whatever is fresh that particular day (straight from the aquarium or off the ice rack). There is also a small selection of red meat for those not eating seafood. Not bad for a landlocked country. The wine list is outstanding.
Address: Týnský Dvůr 5, Prague 1–Old Town, website
Tel.: 225 895 447
Open daily 11 a.m.-11 p.m.
Rated: Expensive
V Zátiší
This popular restaurant was reopening in 2006 with a new look and old chef, Stanislava Marková. Bold and intriguing flavours, with tender lamb, sea bass and a lot in between. Curious décor includes a wall of well-worn books. Great experience.
Address: Liliová 1, Prague 1 –Old Town, website
Tel.: 222 221 155
Open daily noon-3 p.m., 5:30 p.m.-11 P.M.
Rated: Expansive