Historical and Contemporary Crafts, Applied Arts & Design
For more than 120 years, the Museum of Decorative Arts in Prague has been collecting and preserving the history of Czech arts and crafts, applied art, and design and display exquisite examples of European decorative arts (neo-Renaissance museum) that tread that fine line between fine and applied art. This building itself is a work of art; the Museum of Decorative Arts was founded in 1885. The museum has four halls full of 16th to 19th-century artefacts. Only a fraction of the museum's collection is currently exhibited, but the pieces on display are superb. They include furniture, tapestries and a range of beautiful Bohemian glass and ceramics. The individual parts of the exposition Votive Hall, The Story of Fibre, Born in Fire, Print and Image, Treasury, and Time Machines allow the richness and diversity of the collections to shine. The museum houses a unique collection of glass, one of the largest and most significant in the world.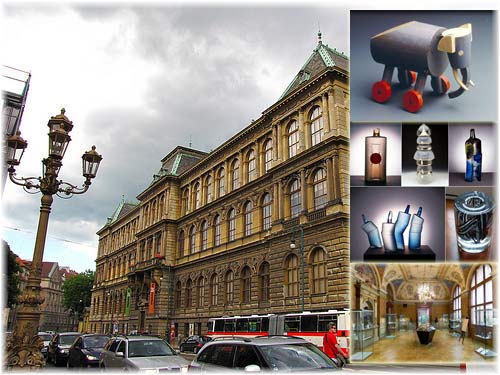 Location: 17.Listopadu 2, Prague 2 (metro station Staroměstská), Tram 17, 18 – Staroměstská stop; www.upm.cz;
Admission: 120 CZK, admission free with Prague Card;
Opening hours: 10 am-7 pm Tue, 10 am-6 pm Wed-Sun, Closed Mon;
In Czech: Uměleckoprůmyslové Muzeum
TIP: Museum is free to enter from 5 pm to 7 pm on Tuesday evenings.
Permanent Collection – The Stories of Materials
The main reason for visiting is the top-floor exhibit called the Story of Materials. The Stories of Materials is a rich selection of exhibits from the Antique Era to the 20th century. The initial Votive Hall of the exhibition reviews the history and the founders of the museum. A second part is dedicated to textile and fashion, named The Story of the Fibre, representing the development in secular and lethargic clothing, fashion accessories, tapestries, laces, embroideries, etc. In the Decorative Arts and Photography Hall resides the Print and Image section. It focuses on book-binding, book illustrations, posters, small pieces of applied graphics, sets of photographs, including some outstanding pieces by J. Sudek and F. Drtikol. There's also an exhibition of women's fashions, from the early-1800s smocks that Jane Austen might have worn to garish 1960s and '70s outfits. On the level above that, there's a collection of ecclesiastical garments dating back as far as the 14th century.