See more and save more with Prague Card (TM). The Prague Card gives you FREE ADMISSION to over 50 top Prague attractions, DISCOUNTS and GUIDEBOOK with all you need to know.
• Over 30 additional discounted entries
• Exclusive offers for tours, cruises, shops & entertainment
• Free guidebook with all you need to know in 7 languages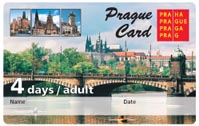 Card issuer: Prague Card
Card name: Prague Card (TM) (also known as Matilda Card)
Validity: 2 to 4 Days
Cost: from 790 CZK (530 CZK for students or children) to 1200 CZK.
Discounts: Pass provides free entry to Prague Castle, heavily discounted or free entry to all the city's major museums and historic buildings. The public travel pass is not included but can be ordered if you pay extra, depending on the duration you want. Compare Prague Cards.
Free Entry Attractions
Cardholders are granted free admission to permanent exhibitions in museums and monuments. The temporary exhibitions are not always included in the price. Check that they are not closed for some reason on the day you wish to visit them. Please present your CARD and VOUCHER COUPON of the corresponding attraction at the ticket office. You will find the vouchers on the final pages of the provided guidebook.
PRAGUE CASTLE
Old Royal Palace, St. George's Basilica, St.Geroge's Convent, Golden Lane, Daliborka, Powder Tower, Sternberg Palace, Schwarzenberg Palace
PETŘÍN HILL
Observatory, Mirror Maze, View Tower, Kinsky Summer House
OLD TOWN
Old Town Hall & Tower, Kinsky Palace, Stone Bell House, Decorative Arts Museum, Golden Ring House, Náprstek Museum, Convent of St. Agnes, Smetana Museum, Bridge Tower, Powder Tower, Tower St. Nicolas, Comenius Museum, Museum of Music
NEW TOWN
National Museum, City of Prague Museum, Dvořák Museum, Police Museum
VYŠEHRAD CASTLE
Vyšehrad Gallery, Brick Gate, Vyšehrad Casemates, Gothic Cellar, Old Custom House
Veletržní Palace
Troja Chateau
Roztoky Castle
Discounts and Special Offers
Lobkowicz Palace (15%), Martinic Palace (33%), Municipal House (15%), Chocolate Pictures Museum (50%), Klementinum (25%), Charles Bridge Museum (33%), Choco-Story Museum (30%), Ghosts & Legends Museum (20 %), Kafka Museum (15%), Mucha Museum (15%), Nelahozeves Castle (15%), Botanical Garden (15%). 10% Transfer from the Airport.
Sales Offices
– Tourist information Centres
– Cedok, CSA Airtours and other agencies, Airport Ruzyne
– Hotels Savoy, Praha, Bellagio, Riverside, etc.
Validity of the Card
The Prague Card is your personal card and cannot be transferred to anyone else. A Card is only valid when there is the name of the holder and the date of the first use. The card will be valid for a period of 4 days from the day it is first used. Altered, corrected Cards may not be used.