Just in the middle of the centre of Prague, Karlova Street is overcrowded with tourists walking between Old Town Square and Charles Bridge. However, few of them depart slightly from the route to a nearby temple of Czech beer drinkers – the beerhouse u Zlatého Tygra, which became famous through Bohumil Hrabal's stories.
Excellent Beer and a Classical Beer House Atmosphere
This place is almost like an oasis in the centre of Prague, overfilled with cafés and luxury restaurants. If you do not know about it, it is easy to overlook it on Husova Street. Nevertheless, there is a sign on a grey house saying u Zlatého Tygra, but if you think you will find anything like a shop window or a sign advertising beer or tourist promoters standing on the pavement with a menu. Forget it.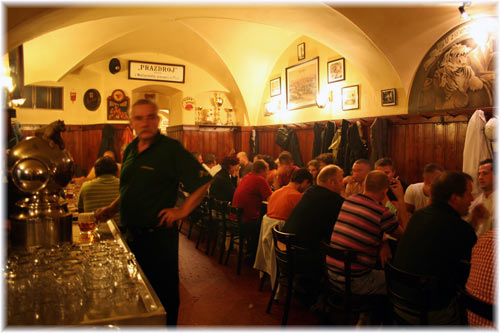 You go inside through a dark aisle, and up to the very last moment, you are not sure if you end up in the tap house or in the coal cellar of a house, the history of which goes back to the 14th century.
It is three o'clock in the afternoon, and the waiters are opening the doors of a medium-sized pub with arched ceilings famous for the best Pilsner beer in Prague. There is still a chance to grab a vacant place. As soon as five o'clock arrives, there is no chance to go there without a reservation. It is usually hopeless. And this is even though there is no luxury interior or cuisine specialities or twenty-year-old waitresses. This is not why people come here.
This is a real Czech pub, where three classic patriarchal publicans chatter around the place; they do not ask you a thing but just put a paunchy half-litre of Pilsner 12° in front of you. It is a gift from heaven in this weather. And those who appreciate good wine will like it on any occasion.
There are groups of friends sitting at nearby tables, some of whom have been coming here for dozens of years, students and sometimes an experienced tourist. It was the same when Bohumil Hrabal used to sit here. Although he passed away more than ten years ago, he still has "his" seat reserved in the pub u Zlatého Tygra. He used to be the most honoured guest; this is proved by his bust opposite the entrance door and photographs showing him meeting presidents Havel and Clinton.
In U Zlatého Tygra, you will get nothing else to drink apart from beer, wine and sparkling water. And if you feel hungry, probably the best choice is fried pork schnitzel in a potato pancake with cabbage salad and bread. Another classic dish that is worth trying at U Zlatého Tygra is beer cheese because this beerhouse was the first one where the producer started to deliver this famous pub meal regularly.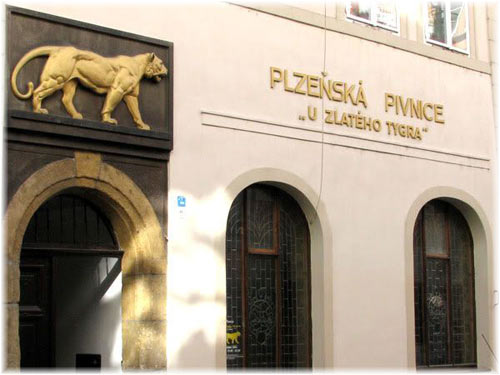 Location: Husova 228/17, Old Town; Phone: +420 222 221 111; website