Operation Anthropoid Memorial was erected on May 27th 2008, in Prague's Kobilysy district to honour the memory of WW2 soldiers from Czechoslovakia's army-in-exile who laid down their lives and managed to assassinate top German leader Reinhard Heydrich.
Operation Anthropoid was the code name for the assassination of top German SS leader Reinhard Heydrich. He was the Reich Main Security Office chief, the acting Protector of Bohemia and Moravia, and a chief planner of the Final Solution, the Nazi German programme for the genocide of the Jews of Europe.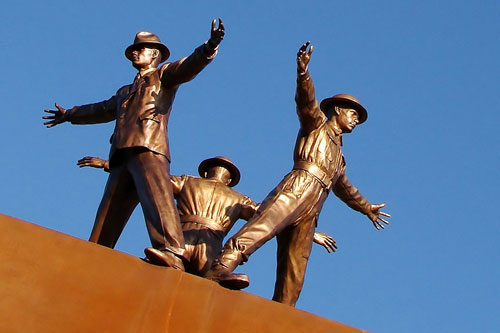 The assassination took place in Prague 8, at a hairpin turn created by the junction of Kirchmayerova třída (Avenue) and V Holešovičkách (Avenue). This site was chosen because the hairpin turn required Heydrich's driver to slow down when negotiating this turn, thereby creating a favourable opportunity for an ambush. This was the site chosen for the memorial: the actual site of the assassination.