Fixed lines are operated by Český Telecom (member of Telefónica group). There are numerous telephone boxes spread all around, especially near metro stations operating on coins or phone cards.
You can make international calls from any public phones. Just dial 00 before your country code. Some payphones accept coins and some only cards (telecards, known as telefoni karta). You can buy phone cards from newsagents, post offices, grocery stores and hotels. They come in 175 CZK and 320 CZK nominations. It is very cheap to use prepaid international calling cards. Most famous is Karta X (which you can buy from newsagents). Calls from hotels are usually much more expensive than a public phone. All phone numbers in the Czech Republic are 9 digits long no matter if they are local, long distance or mobile. All Prague landlines numbers begin with a 2. If you having any problems there is 1171 number to help you get through.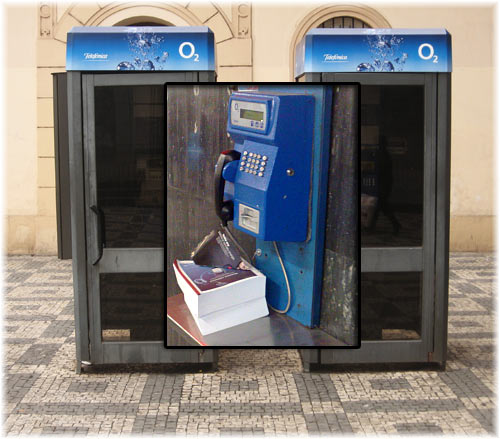 Prepaid international calling cards
 It is very cheap to use prepaid international calling cards. Most famous is Karta X which you can buy from newsagents, hotels and tourist information offices for 300 CZK to 1000 CZK. Other cards are: DITEL, SMARTCALL and T-KARTA. Rates from Prague to the most destinations are around 6 to 10 CZK a minute.
How to make a local call?
You have to dial the entire nine-digit number even if you are dialing within the same area code.
Czech Republic country code +420
International access code 00
Operator for International phone calls 133003
Ambulance service phone 155
Municipal police phone 156
Emergency road service phone 1230, 1240
General information phone 12 444, 221 714 444
Information on air quality 14110
Medical Information 14120
To call the following countries from Prague dial 00, then the relevant code: for US and Canada dial 1; for United Kingdom dial 44; and for Ireland 353.
Local phone calls costs
Calls made from public telephones costs from 5,- CZK per minute (or 15 CZK if calling mobile phone per minute). Telephone cards in the value of 200,- CZK can be purchased at newsagents, post offices, department stores, hotels etc. 
Mobile phone operators

All three mobile phone operators (Eurotel, T-Mobile and Vodafone) use dual frequency 900/1800 MHz. You can take advantage from Czech SIM cards – low rates and free incoming calls. Pay attention to switching your charger for input 220V.
Czech Yellow Pages