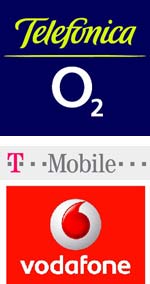 If you live in Europe, Australia or New Zealand you can bring your own GMS mobile. The Czech Republic uses the GMS 900 system. Now all networks allow the use of 3G phones. It is recommended, though, that you check with your mobile provider before you leave about using your phone in Prague. If you are planning a longer stay it may be worth buying or renting a phone as calls made via roaming tends to be very expensive (but at least it is much cheaper than it used to be due to EU regulations). There are three major mobile phone operators: O2 (before Eurotel), T-Mobile and Vodafone (previously operating under the name Oskar). Calls made from Czech mobiles to mobiles or landlines cost between 3 CZK to 9 CZK per minute (depending on your tariff). You can buy a prepaid phone from around 1500 CZK (sometimes even cheaper) or you can buy a sim card and use it with your existing mobile phone. Mobiles phones in Prague are very common, and probably more than 85% of the population use theirs every day, and for those text addicts – you can send a free sms text message to Eurotel or Vodafone users from their www pages.
If you are coming to Prague from the UK some operators allow to use you allowance (your free minutes) even in you are abroad; check this before you fly.
Mobile 3G Internet
You can get connected to the internet via your mobile operator as well depending on your tariff and roaming access (using 3G or HSDPA). If you are staying longer it is worth buying a local sim card as well as arranging some tariff for a mobile broadband. Connection is fast and reliable.
Mobile prepaid internet from T-Mobile
This gives you unlimited access to the internet for 850 CZK, monthly. The maximum speed is 0.5MB per sec. No contract is required; just buy a prepaid sim card pack called Twist. Then you need to activate this service by sending a SMS text message to 4603 with the text 'SURF A'. The service can be activated only if sufficient balance is available. The APN for post-paid, but maybe also for prepaid, is internet.t-mobile.cz